Budapest Hotel Guide
Budapest City Guide:
Budapest Public Transportation
Metro Lines of Budapest
Weather in Budapest
Central Market Hall
St. Stephen's Basilica
Gellert Thermal Bath and Swimming Pool
Gellért Hill
Budapest baths
Hungarian National Opera
Museum of Fine Arts
Gallery of Arts
Museums and galleries
Heroes' Square
Budapest Zoo and Botanical Garden
Budapest Amusement Park
City Park Skating Rink
Margaret Island
The Citadella
Sziget Festival
Ráday street
Puskás Ferenc Stadium
Botanical Garden
Budapest Card
Confectioners in Budapest
City structure of Budapest
Ferihegy 1 Airport
Ferihegy 2 Airport
Airline Companies at Ferihegy
Parking in Budapest
Public Toilets
Distances from Budapest
New Year's Eve in Budapest
Air Pollution in Budapest
Pickpockets in Budapest
Homeless People in Budapest
Changing Money in Budapest
Ships in Budapest
West End City Center
Market customs
The Danube in Budapest
Hungary Tourist Guide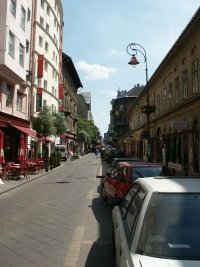 Ráday street, found in the 9th district of Budapest, is one of the most popular and most visited places of the capital. The intimate street which offers a treasury of leasure activities, cultural and gastronomical opportunities is popular with the inhabitants of the capital city as well as with tourists from the country or abroad. Due to the numerous festivals organised here, in the year 2000 Ráday street turned into a so called "cult street".

In the surroundings of today's Ráday street a settlement called Szenterzsébetfalva stood in the middle ages. In the middle of the 1700's the main "artery" of the settelement was the ancestor of Ráday street, Soroksári street, as it was called at that time. The street obtained its new name from Gedeon Ráday, famous poet and patron of art of the 18th century. It was the writer's bigesst determination to collect all pieces of Hungarian literature. When he died his library contained some ten thousand volumes. The base of the volume stock of the public Ráday library, found in the street, was collected by the Ráday family during the 18th century. Gedeon Ráday and his father Pál Ráday played a significant part in the establishment of the library. Artists have always loved this time, no matter if long ago or right now, Jenő Harangy the graphic artist and painter produced here, also the director, Gábor Bódy spent his childhood here.

Each year Ráday street awaits the public, that is susceptible to culture and is willing to spend its free time in a top class environment. From April to October in the course of "Ráday cult street" about eight fetsivals are organised here. From among the mentioned festivals the following are the most popular: International Poetry Festival, Plein-Art Contemporary Art Festival, Reformed Music Festival, Summer Games in Ferencváros, Ferenc Day Fair. Besides this three galleries, a Bible museum and the previously mentioned library awaits the art lovers.

No matter if we end up in Ráday street in the morning or at night, it is never deserted; there are always some people sitting at the cafés or restaurants and their terraces. Among many others it is due to the some 14 cafés that can be found here. Ráday street can be devided into two strikingly detaching parts; the boundary is Bakáts Square. The Saint Ferenc Catholic Church can also be found here. Heading towards Boráros Square from here the view is slightly less attractive; it is the other side, the one towards Kálvin Square is the actual pedestrian precinct. Most cafés are found here: the starting point is Jaffa Café, and the line of cafés ends with a retro bar called Cha-cha-cha that is found in the subway at Kálvin Square.

Those that wish to be shopping around can choose from numerous types of shops such as fancy-leather goods maker, and shops selling electronic goods and furniture. Those that wish to blossom out have also picked the right place as hairdresser's, beauty saloons, solariums, and gyms can also be found found in Ráday Street. One can apply for student work as well as bet on horse races. The Goethe Institut awaits everyone wishing to study languages; its cafeteria is also well-liked.

Because of it being much frequented the government of Ferencváros - the building of which is also situated here - is consistently working on transforming Ráday Street into a solely pedestrian precinct. Today cars can still run along the street in one direction, however the traffic is kept reduced so that the people visiting this place can have fun and relax undisturbed.