Budapest Hotel Guide
Budapest City Guide:
Budapest Public Transportation
Metro Lines of Budapest
Weather in Budapest
Central Market Hall
St. Stephen's Basilica
Gellert Thermal Bath and Swimming Pool
Gellért Hill
Budapest baths
Hungarian National Opera
Museum of Fine Arts
Gallery of Arts
Museums and galleries
Heroes' Square
Budapest Zoo and Botanical Garden
Budapest Amusement Park
City Park Skating Rink
Margaret Island
The Citadella
Sziget Festival
Ráday street
Puskás Ferenc Stadium
Botanical Garden
Budapest Card
Confectioners in Budapest
City structure of Budapest
Ferihegy 1 Airport
Ferihegy 2 Airport
Airline Companies at Ferihegy
Parking in Budapest
Public Toilets
Distances from Budapest
New Year's Eve in Budapest
Air Pollution in Budapest
Pickpockets in Budapest
Homeless People in Budapest
Changing Money in Budapest
Ships in Budapest
West End City Center
Market customs
The Danube in Budapest
Hungary Tourist Guide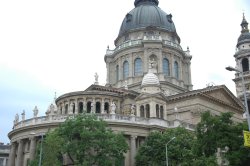 St. Stephen's Basilica of Budapest, which was built in neo-renaissance and classicist style, is one of the most beautiful and most significant spiritual and tourist sights of Hungary firstly because of the respect for St. Stephen the founder of Hungary and secondly because of its compelling beauty. The building process began on 14 August 1851 according to the plans of József Hild who managed the building operations till his death in 1867. After the death of Hild it was Miklós Ybl who took over his position and finished the building. After his death József Kauser was the manager of the interior and fine art decoration. The works finished till 1905.

Entering the Basilica you will be spell-bound by the enormous space, the deep red, black and white marble and precious stones. Its interior is rich in various artworks. You can see numerous statues, paintings and mosaics made by the most renowned Hungarian artists. Works of Gyula Benczúr, Alajos Stróbl, József Dankó, Bertalan Székely and Károly Lotz. The mosaic above the high altar was designed in virtue of oil-painting schemes of Gyula Benczúr. In the middle of the high altar you can find the statue of St. Stephen, which was made of white crarrara marble by Alajos Stróbl. The mummified right hand of St. Stephen, the most important relic of the Hungarian statehood is kept in the Holy Right Chapel, which is located behind the presbytery.

One of the peculiarities of the Basilica is that architecturally it is not a basilica because it layout has a shape of a Greek cross but even so it is called basilica from the first moment. The other speciality we can mention is that despite its spiritual significance the Basilica has been in possession of the church only since 2001. Till that time it was the property of the state.

The southern tower of the Basilica operates as a look-out tower, which can be easily reached by elevator. You can enjoy the beautiful view of the city from there. Another sight of the Basilica is its organ, which was made in 1905. The biggest bell of the country with its 9 tons can be found also here.

Guided tours Monday-Friday at 09:30 a.m., 11:00 a.m., 02:00 p.m., 03:30 p.m., on Saturday at 09:30 a.m. and 11:00 a.m. in Hungarian and English furthermore in case of registration in advance in German, French, Italian and Polish. Also in case of registration in advance: you can make up your visit with a 15-minute organ-violin mini concert.