Budapest Hotel Guide
Budapest City Guide:
Budapest Public Transportation
Metro Lines of Budapest
Weather in Budapest
Central Market Hall
St. Stephen's Basilica
Gellert Thermal Bath and Swimming Pool
Gellért Hill
Budapest baths
Hungarian National Opera
Museum of Fine Arts
Gallery of Arts
Museums and galleries
Heroes' Square
Budapest Zoo and Botanical Garden
Budapest Amusement Park
City Park Skating Rink
Margaret Island
The Citadella
Sziget Festival
Ráday street
Puskás Ferenc Stadium
Botanical Garden
Budapest Card
Confectioners in Budapest
City structure of Budapest
Ferihegy 1 Airport
Ferihegy 2 Airport
Airline Companies at Ferihegy
Parking in Budapest
Public Toilets
Distances from Budapest
New Year's Eve in Budapest
Air Pollution in Budapest
Pickpockets in Budapest
Homeless People in Budapest
Changing Money in Budapest
Ships in Budapest
West End City Center
Market customs
The Danube in Budapest
Hungary Tourist Guide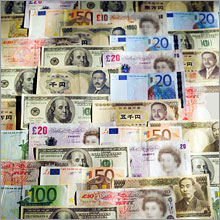 The official currency in Hungary is the Hungarian Forint (HUF). Its exchange rate to the other currencies is fluctuating on a daily basis. The National Bank of Hungary has allowed only a certain percentage drop or rise from the median, so if the currency seems to go out of these boundaries, the Central Bank intervenes by either purchasing or selling Forints. This is important in order to provide a stability for the currency.

Tourists and locals use the numerous money exchange offices in Budapest to exchange their EUROS, Dollars or Yens for Forints. These money exchange offices are everywhere from airports to train stations, pedestrian zones, shopping centers, etc. They are growing in number as more and more locals get their income in a foreign currency. The exchange rates vary only minimally, but the airport, the hotels and the beginning of the pedestrian zones often offer 10-15% less Forints for your money.

Another possibility is a retail bank in Budapest, but you'll have to accept a lower exchange rate and perhaps wait in the line, and more administration. Exchanging money on the street near the train stations was once "popular" in Budapest, but it had almost disappeared from the streets nowadays.