Budapest Hotel Guide
Budapest City Guide:
Budapest Public Transportation
Metro Lines of Budapest
Weather in Budapest
Central Market Hall
St. Stephen's Basilica
Gellert Thermal Bath and Swimming Pool
Gellért Hill
Budapest baths
Hungarian National Opera
Museum of Fine Arts
Gallery of Arts
Museums and galleries
Heroes' Square
Budapest Zoo and Botanical Garden
Budapest Amusement Park
City Park Skating Rink
Margaret Island
The Citadella
Sziget Festival
Ráday street
Puskás Ferenc Stadium
Botanical Garden
Budapest Card
Confectioners in Budapest
City structure of Budapest
Ferihegy 1 Airport
Ferihegy 2 Airport
Airline Companies at Ferihegy
Parking in Budapest
Public Toilets
Distances from Budapest
New Year's Eve in Budapest
Air Pollution in Budapest
Pickpockets in Budapest
Homeless People in Budapest
Changing Money in Budapest
Ships in Budapest
West End City Center
Market customs
The Danube in Budapest
Hungary Tourist Guide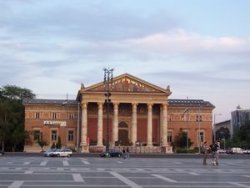 The Gallery of Arts is the country's largest fine arts exhibition hall without any permanent exhibitions. It usually houses the works of prominent, contemporary Hungarian and international artists on its massive 2300 m² floor space. A separate hall is used to display 3D films illustrating Hungary's natural, architectural, and historical treasures. It accommodates 80 people.

The basilica-style building on Hősök Tere (Heroes Square), was designed by Albert Schickedanz and completed in 1896 in coordination with the millennium celebrations of Hungary's founding. The buildings perhaps most notable feature is its Corinthian six-pillar entrance and the Pál Sátori constructed copper, coffer-decorated main gate. Lajos Ébner Deák's three-part mural decorates the back. The pictures illustrate the beginning of sculpting, painting and show the beginnings of art. All of this is portrayed with the legendary stories of Vulcan, Athena, Apollo and the muses. The pictures in the center show the allegoric figures of painting and sculpting. The side of the building is notable not only for its ornaments and harmony, but also for the rare glazed pirogranite covering originating from Pécs. The brick-covered walls are made all the more interesting thanks to the elements reminiscent of the renaissance era and the grating, window frames, and amorettes.

The building is considered a historical monument and it underwent major reconstruction during 1991-1994. The public can now appreciate the true beauty of the Gallery's embossments, plant-patterned ornaments, the renovated portico, the aisles, and its well-lit halls.

The Gallery is at Hősök Tere (Heroes Square) across from the Museum of Fine Arts. It is easily accessible via public transport by taking the millennium underground (M1, yellow metro line), the trolley busses 72, 75, 79, or by buses 4, 20, or 30.