Budapest Hotel Guide
Budapest City Guide:
Budapest Public Transportation
Metro Lines of Budapest
Weather in Budapest
Central Market Hall
St. Stephen's Basilica
Gellert Thermal Bath and Swimming Pool
Gellért Hill
Budapest baths
Hungarian National Opera
Museum of Fine Arts
Gallery of Arts
Museums and galleries
Heroes' Square
Budapest Zoo and Botanical Garden
Budapest Amusement Park
City Park Skating Rink
Margaret Island
The Citadella
Sziget Festival
Ráday street
Puskás Ferenc Stadium
Botanical Garden
Budapest Card
Confectioners in Budapest
City structure of Budapest
Ferihegy 1 Airport
Ferihegy 2 Airport
Airline Companies at Ferihegy
Parking in Budapest
Public Toilets
Distances from Budapest
New Year's Eve in Budapest
Air Pollution in Budapest
Pickpockets in Budapest
Homeless People in Budapest
Changing Money in Budapest
Ships in Budapest
West End City Center
Market customs
The Danube in Budapest
Hungary Tourist Guide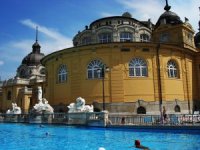 Széchenyi Thermal Bath: It is one of the biggest thermal bath complexes in Europe and the first thermal bath in Pest. In 1881 there was already an Arthesian Bath in operation here, the actual bath was built in 1913. the swimming pools were renewed in 1999. There is also a daytime outpatient hospital with a complex physiotherapy department. Services: healing cure program, healing gymnastics for individuals and groups, underwater gymnastics, weight bath, dry and steam sauna, finnish saunas, carbonic tub-bath treatment, mud-packing, medical healing massage, refreshing massage, fitness room, fat-burning and shaping gymnastics.

Rudas Thermal Bath: There was a Turkish Bath here int he 15th century. Below the 10 m diameter dome, sustained by 8 pillars, there is an octagonal pool. The thermal bath has been visited from 1936 on exclusively by men. There is also a daytime outpatient hospital operating with a complex physiotherapy department. Services: termal bath with 6 swimming pools, underwater massage by water beam, complex balneotherapy treatment, medical healing massage, refreshing massage, etc.

Király Termal Bath: The construction of this bath was begun by the Turks in 1565 but it has no direct hot water base. The Turks built the Bath far from the springs to ensure the opportunity for bathing even in the case of an eventual siege and the hot water comes from the Lukács Bath. In 1796 the bath was acquired by the König family and received its name, könig means király (king) in Hungarian. Services: termal pool bath, underwater massage by water beam, medical healing massage, footmassage, refreshing massage, etc.

Seasonal baths

Római: The area had been a known water supplying place already in the Roman age. The district around the springs was respected as a holy site and archaeologists have even found in the the base walls of the sanctuary. The company which runs the bath was founded in 1930 and in 1964 a renewed open-air bath was opened which was modernized in 2000. The open-air pool was transformed into a fancy pool with slide, neck shower and effervescing pools and the children's basin became a real paradise for the smallest visitors.

Pünkösdfürdő: The open-air bath was established in 1935, based on Alfred Hajós' plans, on the bank of the Danube. The three pools are situated among rose bowers and garantizes a real pleasure of recreation and relaxition for all visitors. It was renewed in 2002-2003 and enriched with a fancy pool, children's basin with slides and finnish sauna with a capacity of 25 persons.