Budapest Hotel Guide
Budapest City Guide:
Budapest Public Transportation
Metro Lines of Budapest
Weather in Budapest
Central Market Hall
St. Stephen's Basilica
Gellert Thermal Bath and Swimming Pool
Gellért Hill
Budapest baths
Hungarian National Opera
Museum of Fine Arts
Gallery of Arts
Museums and galleries
Heroes' Square
Budapest Zoo and Botanical Garden
Budapest Amusement Park
City Park Skating Rink
Margaret Island
The Citadella
Sziget Festival
Ráday street
Puskás Ferenc Stadium
Botanical Garden
Budapest Card
Confectioners in Budapest
City structure of Budapest
Ferihegy 1 Airport
Ferihegy 2 Airport
Airline Companies at Ferihegy
Parking in Budapest
Public Toilets
Distances from Budapest
New Year's Eve in Budapest
Air Pollution in Budapest
Pickpockets in Budapest
Homeless People in Budapest
Changing Money in Budapest
Ships in Budapest
West End City Center
Market customs
The Danube in Budapest
Hungary Tourist Guide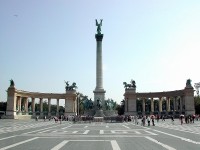 The Heroes' Square (Hősök tere in Hungarian) is one of the most beautiful and important squares of Budapest. It lies at the end of the Andrássy Avenue and together they form part of the World Heritage. It is very close to the City Park, the Zoo and the Amusement Park.

It is surrounded by two oustanding buildings, the Museum of Fine Arts on the left and the Palace of Arts (or Art Exhibition Museum) on the right. On the other side it faces Andrassy Avenue on which we can find numerous embassies, hotels, excelent restaurants and coffee shops and some residential buildings.

in the center of the square we can see theMillennium Memorial (also known as Millennium Monument or Millenary Monument) one of the major landmarks of Budapest, with statues of the leaders of the seven tribes that founded Hungary in 896 and of other important figures from the Hungarian history. The construction started in 1896 and finished in 1929, when the square received its difinitive name.

In the very center of the monument we can see a 36 meters tall column coronated by the statue of Gabriel archangel. There is a legend thay says that he appeared to Saint Stephen, first king of Hungary, in a dream and told him to accept the crown and organize the Hungarian Christian Church. He listened to this advise and this way Hungary became one of the most important kingdoms of the Middle Ages.

There are also allegorical statues simbolizing the Work, Wellbeing, Wisdom, Glory, Peace and War.