Budapest Hotel Guide
Budapest City Guide:
Budapest Public Transportation
Metro Lines of Budapest
Weather in Budapest
Central Market Hall
St. Stephen's Basilica
Gellert Thermal Bath and Swimming Pool
Gellért Hill
Budapest baths
Hungarian National Opera
Museum of Fine Arts
Gallery of Arts
Museums and galleries
Heroes' Square
Budapest Zoo and Botanical Garden
Budapest Amusement Park
City Park Skating Rink
Margaret Island
The Citadella
Sziget Festival
Ráday street
Puskás Ferenc Stadium
Botanical Garden
Budapest Card
Confectioners in Budapest
City structure of Budapest
Ferihegy 1 Airport
Ferihegy 2 Airport
Airline Companies at Ferihegy
Parking in Budapest
Public Toilets
Distances from Budapest
New Year's Eve in Budapest
Air Pollution in Budapest
Pickpockets in Budapest
Homeless People in Budapest
Changing Money in Budapest
Ships in Budapest
West End City Center
Market customs
The Danube in Budapest
Hungary Tourist Guide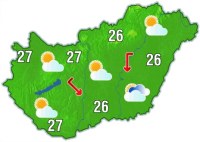 Hungary is situated in the temperate zone. The climate is continental more precisely, the main charecteristic of which is that there are relatively big differences among the four seasons. Due to its location the weather of the capital bears the characteristics of both the western and eastern parts of the country. The mild, rainy weather of Transdanubia is determining, just as the extremism of the Great Plain.

The average number of sunny hours in Budapest in a year is 2040, the yearly average temperature is 11 °C. The daily fluctuation of temperature is quite big. The coldest month is January, when the average temperature is 0.2 °C, while July is the warmest month with an average temperature that can reach 24.8 °C.

In the capital spring begins in early April, this is the time of heavy rains. The summer is dry and hot, in this season most people travel to the country, mainly to Lake Balaton, or those who can, rest in the shade on the beaches of the capital. The autumn is usually chilly, foggy and rainy. The winter is relatively short and tolerably cold, usually it is dry. When the snow that falls is of a considerable quantity, the traffic in the city often comes to a halt. Budapest being a busy city, unfortunately we cannot enjoy the sight of a clean, snowy landscape, as in provincial towns and villages.

The annual rainfall is around 617 mm, which indicates two rainy (early summer and autumn), as well as two drier periods (middle of winter and early autumn). The wind usually blows from a northwestern directions throughout the whole year, however there are often windless periods, which cause frequent fogs in winter. The yearly average wind velocity is 2.4 m/sec.