Budapest Hotel Guide
Budapest City Guide:
Budapest Public Transportation
Metro Lines of Budapest
Weather in Budapest
Central Market Hall
St. Stephen's Basilica
Gellert Thermal Bath and Swimming Pool
Gellért Hill
Budapest baths
Hungarian National Opera
Museum of Fine Arts
Gallery of Arts
Museums and galleries
Heroes' Square
Budapest Zoo and Botanical Garden
Budapest Amusement Park
City Park Skating Rink
Margaret Island
The Citadella
Sziget Festival
Ráday street
Puskás Ferenc Stadium
Botanical Garden
Budapest Card
Confectioners in Budapest
City structure of Budapest
Ferihegy 1 Airport
Ferihegy 2 Airport
Airline Companies at Ferihegy
Parking in Budapest
Public Toilets
Distances from Budapest
New Year's Eve in Budapest
Air Pollution in Budapest
Pickpockets in Budapest
Homeless People in Budapest
Changing Money in Budapest
Ships in Budapest
West End City Center
Market customs
The Danube in Budapest
Hungary Tourist Guide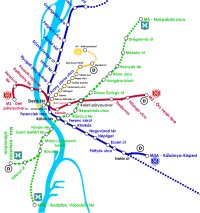 There are 2 metro lines in Budapest and an additional so-called Millennium Underground. The main station is Deák square, where the three lines meet. The 4th line is under construction, but the deadline keeps postponing. Several stations have been renovated during the past years, especially the ones with a lot of traffic.

M1 Millennium Underground stations from the city center going outwards:

Vörösmarty square, Deák Ferenc square, Bajcsy-Zsilinszky road, Opera, Oktogon, Vörösmarty street, Kodály Körönd, Bajza street, Heroes' square, Széchényi bath, Mexikói road

The journey takes approximately 11 minutes.

M2 East-West Metro line stations starting from the Déli Train Station:

Déli Railway Station, Moszkva square, Batthány square, Kossuth Lajos square, Deák Ferenc square, Astoria, Blaha Lujza square, Keleti Railway Station, Stadiums, Pillangó street, Örs Vezér square

The journey takes approximately 18 minutes.

M3 North-South Metro line stations, starting from Kőbánya-Kispest:

Kőbánya-Kispest, Határ road, Pöttyös street, Ecseri road, Népliget, Nagyvárad square, Klinikák, Ferenc avenue, Kálvin square, Ferenciek square, Deák Ferenc square, Arany János street, Nyugati Railway Station, Lehel square, Dózsa-György road, Árpád bridge, Forgách street, Gyöngyösi street, Újpest City Gate, Újpest Center

The journey takes approximately 31 minutes.