Budapest Hotel Guide
Budapest City Guide:
Budapest Public Transportation
Metro Lines of Budapest
Weather in Budapest
Central Market Hall
St. Stephen's Basilica
Gellert Thermal Bath and Swimming Pool
Gellért Hill
Budapest baths
Hungarian National Opera
Museum of Fine Arts
Gallery of Arts
Museums and galleries
Heroes' Square
Budapest Zoo and Botanical Garden
Budapest Amusement Park
City Park Skating Rink
Margaret Island
The Citadella
Sziget Festival
Ráday street
Puskás Ferenc Stadium
Botanical Garden
Budapest Card
Confectioners in Budapest
City structure of Budapest
Ferihegy 1 Airport
Ferihegy 2 Airport
Airline Companies at Ferihegy
Parking in Budapest
Public Toilets
Distances from Budapest
New Year's Eve in Budapest
Air Pollution in Budapest
Pickpockets in Budapest
Homeless People in Budapest
Changing Money in Budapest
Ships in Budapest
West End City Center
Market customs
The Danube in Budapest
Hungary Tourist Guide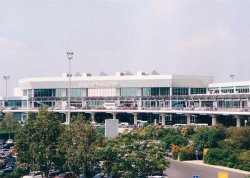 Budapest Airport Transfer

Ferihegy International Airport (Ferihegyi Nemzetközi Repülőtér) is Budapest's only, and one of five international airports in Hungary. Its name comes from Ferenc Mayerffy who used to rent this land in the middle of the XIX. century. It lies 16 km (~10 miles) southeast of the capital city. Lots of international flights leave its three terminals (1, 2A, 2B) daily, headed mainly to the cities of Europe, but also to destinations in Asia, North America and the Middle East.

Terminal History: Ferihegy's Terminal 2 was built in 1985, and gradually the old Terminal 1 became less and less important. The airport now has a terminal 2A and 2B.

Terminal 2A: It was originally designed exclusively for Malév. All of Malév's flights arrive and depart from 2A, but it is now also home to Air Malta, Carpatair, CSA Czech Airlines, and Moldavian Airlines.

Terminal 2B: Although it is directly connected to 2A, it is still considered a separate terminal. 2B is home to private and business jets while also serving VIP flights 24 hours a day. It also hosts discount airlines. A few years ago, Ferihegyi Repülőgép Emlékpark (Ferihegy Aircraft Memorial Park) opened next to Terminal 2. It displays all the important aircraft models used in Hungarian civilian air travel: starting from the early Li-2 models all the way to the Tu-154, which last served in 2000. Visitors can sit in the cockpit or check out the cabin and take a seat as a passenger. The collection is made up of seven aircrafts, an ambulance helicopter, and a radar plane. It is a truly fascinating miniature airport!

Transportation: From the final stop of the blue metro line (Kőbánya-Kispest), we can travel by bus 200 all the way to Ferihegy 2A and 2B. The stop is right between the two terminals. This is not really the fastest way to travel, since the bus is not an express line and does stop several times along the way. However it is frequent, has lots of space for bags, and is equipped with air-conditioning. If we want to travel towards the city, we can take this bus (the stop is between terminals 2A and 2B) back to Kőbánya-Kispest metro stop and take the blue metro line to the city center (Deák Ferenc Tér) in less than 25 minutes.