Budapest Hotel Guide
Budapest City Guide:
Budapest Public Transportation
Metro Lines of Budapest
Weather in Budapest
Central Market Hall
St. Stephen's Basilica
Gellert Thermal Bath and Swimming Pool
Gellért Hill
Budapest baths
Hungarian National Opera
Museum of Fine Arts
Gallery of Arts
Museums and galleries
Heroes' Square
Budapest Zoo and Botanical Garden
Budapest Amusement Park
City Park Skating Rink
Margaret Island
The Citadella
Sziget Festival
Ráday street
Puskás Ferenc Stadium
Botanical Garden
Budapest Card
Confectioners in Budapest
City structure of Budapest
Ferihegy 1 Airport
Ferihegy 2 Airport
Airline Companies at Ferihegy
Parking in Budapest
Public Toilets
Distances from Budapest
New Year's Eve in Budapest
Air Pollution in Budapest
Pickpockets in Budapest
Homeless People in Budapest
Changing Money in Budapest
Ships in Budapest
West End City Center
Market customs
The Danube in Budapest
Hungary Tourist Guide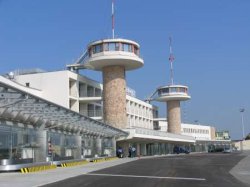 Airport Transfer Budapest

Ferihegy International Airport (Ferihegyi Nemzetközi Repülőtér) is Budapest's only, and one of five international airports in Hungary. Its name comes from Ferenc Mayerffy who used to rent this land in the middle of the XIX. century. It lies 16 km (~10 miles) southeast of the capital city. Lots of international flights leave its three terminals (1, 2A, 2B) daily, headed mainly to the cities of Europe, but also to destinations in Asia, North America and the Middle East.

History of the Terminal: By September of 1939 the city's air traffic was more than what Budaörs Airport could handle. As such, a tender was issued for the building of a new airport at Ferihegy. Károly Dávid won the bid with a reinforced concrete and brick structure that was to resemble an airplane when viewed from above. The hull of the aircraft would be its arrival and departure lobby, its fin would be the façade towards the city, and the wings would be comprised of multi-storey buildings facing the landing strip. Dávid also imagined an observation deck and two control towers that would serve as the imaginary aircraft's motors. With its design, Ferihegy 1 was considered one of the most modern airports in Europe during its time.

After damage during the Second World War, the airport was again opened on May 7th, 1950, although some parts were not completed until later. It was originally built for Maszovlet (Magyar Szovjet Légiforgalmi Rt. - Hungarian Soviet Air Traffic Inc.), which was the predecessor of Malév. The first regular flight to the west was Malév's flight to Vienna and the first western airline to fly to Budapest was Holland's KLM.

By the 1980's Ferihegy 1 could no longer handle the load, so after completion of Ferihegy 2B it was retired to handle only government, cargo, and private jet traffic.

During this time a large part of Ferihegy functioned as an office building since air traffic fell in the first few years of the XXI. century. It was designated a historic monument in 2000. During 2003, the emergence of low cost airlines gave a newfound boost to air traffic and as such Ferihegy 1 was reopened, even though it was still only capable of handling one flight at a time.

In October of 2004, a several month long historic renovation was commissioned by Budapest Airport Ltd. They tried to preserve the elegance of the original building, especially by using lots of glass: this not only made the modern areas more airy, but also highlighted the marble and limestone covering. The original atmosphere is restored via the brownish photos, antique furniture, and the café, which was reconstructed to pinpoint perfection with the help of old photographs.

The historic nature of the building prevents a number of services: there is no transit for transferring passengers, no transit of baggage, and no separate business or VIP lounge due to lack of space. This is why discount airlines were first to sign up for use of the terminal. Currently Budapest Airport Inc. has contracts with easyJet, Germanwings, Malmö Aviation, Norwegian Aid, SkyEurope, Sterling, and Wizzair.

Overall this is a classy and friendly airport. We can move about in beautifully constructed halls and we get at least some insight into the exciting world of aviation during the 1940's.

Public Transportation: If you have spent all your money on salami, I recommend taking metro 3 (blue line) to K.bánya-Kispest, which is the final stop. Here you can transfer to bus 93, which is the cheapest, but probably a less comfortable choice.

Bus 200 is a more frequent, more comfortable line with a larger, air-conditioned Volvo bus, but this stops a bit further from Ferihegy 1. If we want to go towards the city, we can take one of these two buses (the stop is to the left from the terminal's exit) to K.bánya-Kispest. The blue metro line takes us to Deák Ferenc square, the city center, in less than 25 minutes.