Budapest Hotel Guide
Budapest City Guide:
Budapest Public Transportation
Metro Lines of Budapest
Weather in Budapest
Central Market Hall
St. Stephen's Basilica
Gellert Thermal Bath and Swimming Pool
Gellért Hill
Budapest baths
Hungarian National Opera
Museum of Fine Arts
Gallery of Arts
Museums and galleries
Heroes' Square
Budapest Zoo and Botanical Garden
Budapest Amusement Park
City Park Skating Rink
Margaret Island
The Citadella
Sziget Festival
Ráday street
Puskás Ferenc Stadium
Botanical Garden
Budapest Card
Confectioners in Budapest
City structure of Budapest
Ferihegy 1 Airport
Ferihegy 2 Airport
Airline Companies at Ferihegy
Parking in Budapest
Public Toilets
Distances from Budapest
New Year's Eve in Budapest
Air Pollution in Budapest
Pickpockets in Budapest
Homeless People in Budapest
Changing Money in Budapest
Ships in Budapest
West End City Center
Market customs
The Danube in Budapest
Hungary Tourist Guide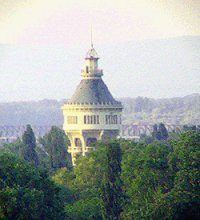 It is a 2,5 kms long island (0.965 km² in area) in the middle of the Danube in central Budapest, between the two city parts, Buda and Pest, beetwen Margit Bridge, designed by French engineer Ernest Gouin and built in 1872-76 by the Société des Bettignoles company of France. Some sculptures on the bridge were designed by the French architect Eiffel, and Árpád Bridge. It is the favorite place of sport lovers, especially of runners due to the excellent rubber-coated jogging track. Besides, the island also houses various sports establishments, like the Palatinus water park (the largest open-air swimming complex in Budapest), the Alfréd Hajós sports pool (where the European LC Championships 2006 was held), a tennis stadium and an athletics centre.

There are numerous rare, valuable and protected plants, trees, rose gardens, real pleasures for the eyes.

The major landmarks are, among others, the Centennial Memorial (commemorating the hundredth anniversary of the city's unification), a small Japanese Garden with a mildly thermal fish pond, a tiny zoo featuring a wide range of exotic waterfowl among other animals, a fountain with background music (for example Strauss) and light show in summer, the Musical Fountain (in fact, a tower built for open-air concerts, renovated in 1936), and an octagonal Water Tower of 57 m (built in Art Nouveau style in 1911, today functioning as a lookout tower and an exhibition hall), of which the latter two were declared protected by UNESCO.

The island used to be called Rabbit Island (Nyulak szigete), and it received its current name after Saint Margaret (1242-1270), the daughter of the king Béla IV of Hungary. The island was dominated by nunneries, churches and cloisters until the XVIII. century, when it was chosen to be the resort of palatines. It was declared a public garden in 1908. There is a small chapel built in Historical style on the place of the former Premonstratensian monastery.

The entry by cars is limited to special cases; taxis and a single bus line. On the northern end of the island a car park houses the cars of hotel guests.

If you want to dance and have a good time, try Holdudvar, the favorite place of local young people and tourists. The best parties are Fridays and Saturdays.