Budapest Hotel Guide
Budapest City Guide:
Budapest Public Transportation
Metro Lines of Budapest
Weather in Budapest
Central Market Hall
St. Stephen's Basilica
Gellert Thermal Bath and Swimming Pool
Gellért Hill
Budapest baths
Hungarian National Opera
Museum of Fine Arts
Gallery of Arts
Museums and galleries
Heroes' Square
Budapest Zoo and Botanical Garden
Budapest Amusement Park
City Park Skating Rink
Margaret Island
The Citadella
Sziget Festival
Ráday street
Puskás Ferenc Stadium
Botanical Garden
Budapest Card
Confectioners in Budapest
City structure of Budapest
Ferihegy 1 Airport
Ferihegy 2 Airport
Airline Companies at Ferihegy
Parking in Budapest
Public Toilets
Distances from Budapest
New Year's Eve in Budapest
Air Pollution in Budapest
Pickpockets in Budapest
Homeless People in Budapest
Changing Money in Budapest
Ships in Budapest
West End City Center
Market customs
The Danube in Budapest
Hungary Tourist Guide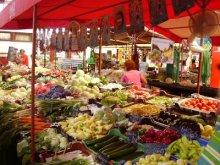 Nowadays, wherever you stay in Budapest, you will surly find a grocery store within 500-600 meters of your apartment, hotel. Nevertheless, the larger markets are still the most popular places for purchasing everything meats, vegetables, etc.

The large market buildings host several smaller retail units, which offer a great variety when combined. There are traditional retailers, and also vendors who grow the vegetables in their own garden. We almost always have the chance to pick the fruits and vegetables on our own. If you purchase a greater quantity, you can taste the fruit prior to the purchase. It is rather uncommon to drive a bargain for vegetables and fruits nowadays. Some vendors, especially the ones who sell their own home-grown products, often give an extra amount free of charge.

The specialized retail units sell vegetables, fruits, meat, fish, sour vegetables (very popular in Hungary), cheese, bakery products, but you will also find catering units in the market buildings, like cafés, buffets and fast food. It is worth to visit these markets just in order to taste the local specialties, like the strudel, pancake and sausage.