Budapest Hotel Guide
Budapest City Guide:
Budapest Public Transportation
Metro Lines of Budapest
Weather in Budapest
Central Market Hall
St. Stephen's Basilica
Gellert Thermal Bath and Swimming Pool
Gellért Hill
Budapest baths
Hungarian National Opera
Museum of Fine Arts
Gallery of Arts
Museums and galleries
Heroes' Square
Budapest Zoo and Botanical Garden
Budapest Amusement Park
City Park Skating Rink
Margaret Island
The Citadella
Sziget Festival
Ráday street
Puskás Ferenc Stadium
Botanical Garden
Budapest Card
Confectioners in Budapest
City structure of Budapest
Ferihegy 1 Airport
Ferihegy 2 Airport
Airline Companies at Ferihegy
Parking in Budapest
Public Toilets
Distances from Budapest
New Year's Eve in Budapest
Air Pollution in Budapest
Pickpockets in Budapest
Homeless People in Budapest
Changing Money in Budapest
Ships in Budapest
West End City Center
Market customs
The Danube in Budapest
Hungary Tourist Guide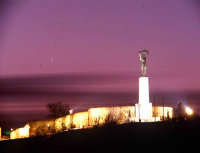 The Citadella is situated in the most beautiful point of Budapest, on the top of the Gellért Hill giving a fantastic view over the city. It was erected in 1854 by the Habsburgs, after the suppression of the 1848-49 Hungarian revolution and war of independence, to keep an eye ont he the city. It is 220 meters long, 60 meters wide, the walls are 4 meters tall and the brought here 60 cannons. It was designed by Emanuel Zita and Ferenc Kasselik. After the conciliation the Hungarians wanted to pull down the Citadella. It was tranformed into a turistic point in the sixties.

The restaurant offers the best dishes from the Hungarian and international cuisine in eight different sized rooms giving seats for 500 guests altogether. They offer special menus and discounts for groups. In the evenings there is a folklore show in the restaurant. The restaurant is perfect for all type of events: weddings, banquets, meetings... In the café you can try coffee specialities, exotic cocktails, ice creams while enjoying the great panorama. The grill terrace offers steaks on charcoal, beers and live music.

Monarchy Courtyard has been restaured and transmits the feeling of the times the Hungarian- Austrian Monarchy. It is waiting for you with craftsmen, fairs, historical characters and different programmes everyday.

The Citadella was an important point during the second world war. It hides a three-level air-raid bunker hosting a waxworks exhibition and an exhibition of historical objects and documents.

You can get here by the bus number 27 from the Móricz Zsigmond Square or on foot from the Erzsébet Bridge, or from the St. Gellért Square through the Gellért Hill.