Budapest Hotel Guide
Budapest City Guide:
Budapest Public Transportation
Metro Lines of Budapest
Weather in Budapest
Central Market Hall
St. Stephen's Basilica
Gellert Thermal Bath and Swimming Pool
Gellért Hill
Budapest baths
Hungarian National Opera
Museum of Fine Arts
Gallery of Arts
Museums and galleries
Heroes' Square
Budapest Zoo and Botanical Garden
Budapest Amusement Park
City Park Skating Rink
Margaret Island
The Citadella
Sziget Festival
Ráday street
Puskás Ferenc Stadium
Botanical Garden
Budapest Card
Confectioners in Budapest
City structure of Budapest
Ferihegy 1 Airport
Ferihegy 2 Airport
Airline Companies at Ferihegy
Parking in Budapest
Public Toilets
Distances from Budapest
New Year's Eve in Budapest
Air Pollution in Budapest
Pickpockets in Budapest
Homeless People in Budapest
Changing Money in Budapest
Ships in Budapest
West End City Center
Market customs
The Danube in Budapest
Hungary Tourist Guide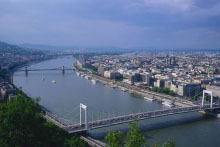 Budapest is cut in half by one of the largest rivers in Europe, the Danube. The Danube is about 400-500 meters wide even in the heart of the city, offering a beautiful sight with its bridges over the large river from both sides. If you take part in one of the sightseeing trips on the boat, it will take about an hour to take a look at the Parliament, the Danube Corso, the historical buildings, the Buda Hills and the National Theater.

The contemporary bank of the Danube has been constructed during the end of the 19th century, in order to protect the city from the floods. The Danube, even during the record floods of the past years, has stayed within the walls ever since. Some low-lying parts of the Margareth Island were covered with little water only. So while the floods have caused considerable damage in other regions of Hungary, they have done relatively little damage in Budapest. It was more like a spectacle, offering a great photo opportunity for locals and tourists alike. During the summer months and at lower water levels, many people take walks along the Danube and get some sunbathing on the stairs. You will also see fishermen around the bridges and in the vicinity of thermal water and sewage floating into the river.