Budapest Hotel Guide
Budapest City Guide:
Budapest Public Transportation
Metro Lines of Budapest
Weather in Budapest
Central Market Hall
St. Stephen's Basilica
Gellert Thermal Bath and Swimming Pool
Gellért Hill
Budapest baths
Hungarian National Opera
Museum of Fine Arts
Gallery of Arts
Museums and galleries
Heroes' Square
Budapest Zoo and Botanical Garden
Budapest Amusement Park
City Park Skating Rink
Margaret Island
The Citadella
Sziget Festival
Ráday street
Puskás Ferenc Stadium
Botanical Garden
Budapest Card
Confectioners in Budapest
City structure of Budapest
Ferihegy 1 Airport
Ferihegy 2 Airport
Airline Companies at Ferihegy
Parking in Budapest
Public Toilets
Distances from Budapest
New Year's Eve in Budapest
Air Pollution in Budapest
Pickpockets in Budapest
Homeless People in Budapest
Changing Money in Budapest
Ships in Budapest
West End City Center
Market customs
The Danube in Budapest
Hungary Tourist Guide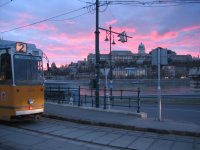 Our company is based in Budapest and we colleagues all live in Budapest. We can tell you for sue: the city is heavily polluted. This is due to the vast number of cars on the road, rising by about 20 000 each year. Many people have moved out to the agglomerate in the past years, but the railway or metro routes have not been developed so quickly, so going to work by car is the only option for many.

Every year, according to the environmental provisions, Budapest should not have more than 35 days when the pollution exceeds the health limits. In 2005, Budapest had 163 such days. In other large cities of the world, cars are constantly pushed out of the city centers in order to free up the inner streets of the gas exhaust and give way to walking and biking. No such trend yet in Budapest, and the city ring M0, which would be able to take the heavy truck traffic off the back of the city, has not been completed for several years.