Budapest Hotel Guide
Budapest City Guide:
Budapest Public Transportation
Metro Lines of Budapest
Weather in Budapest
Central Market Hall
St. Stephen's Basilica
Gellert Thermal Bath and Swimming Pool
Gellért Hill
Budapest baths
Hungarian National Opera
Museum of Fine Arts
Gallery of Arts
Museums and galleries
Heroes' Square
Budapest Zoo and Botanical Garden
Budapest Amusement Park
City Park Skating Rink
Margaret Island
The Citadella
Sziget Festival
Ráday street
Puskás Ferenc Stadium
Botanical Garden
Budapest Card
Confectioners in Budapest
City structure of Budapest
Ferihegy 1 Airport
Ferihegy 2 Airport
Airline Companies at Ferihegy
Parking in Budapest
Public Toilets
Distances from Budapest
New Year's Eve in Budapest
Air Pollution in Budapest
Pickpockets in Budapest
Homeless People in Budapest
Changing Money in Budapest
Ships in Budapest
West End City Center
Market customs
The Danube in Budapest
Hungary Tourist Guide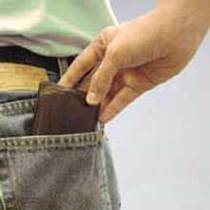 There are pickpockets in every large city in the world, in Budapest as well. They usually go in pairs or more. One of them is to steal the money or the valuables, while the others are there to keep you busy. This is possible only in crowded places. In such places, the victims cannot move quickly and have to pay attention to various things at once. Fortunately, police is present at these places, many times in civic disguise.

Most endangered places are tram line 4-6, bus lines 7/173 running across the city, and the city center stations of the metro lines. Shopping centers have their own inner security services to keep pickpockets out of the premises, with cameras implanted everywhere. The only time when such a place can be "dangerous" is during the Christmas shopping season. Finally, the large, crowded underpasses in the city are also places where pickpockets often cruise around.