Budapest Hotel Guide
Budapest City Guide:
Budapest Public Transportation
Metro Lines of Budapest
Weather in Budapest
Central Market Hall
St. Stephen's Basilica
Gellert Thermal Bath and Swimming Pool
Gellért Hill
Budapest baths
Hungarian National Opera
Museum of Fine Arts
Gallery of Arts
Museums and galleries
Heroes' Square
Budapest Zoo and Botanical Garden
Budapest Amusement Park
City Park Skating Rink
Margaret Island
The Citadella
Sziget Festival
Ráday street
Puskás Ferenc Stadium
Botanical Garden
Budapest Card
Confectioners in Budapest
City structure of Budapest
Ferihegy 1 Airport
Ferihegy 2 Airport
Airline Companies at Ferihegy
Parking in Budapest
Public Toilets
Distances from Budapest
New Year's Eve in Budapest
Air Pollution in Budapest
Pickpockets in Budapest
Homeless People in Budapest
Changing Money in Budapest
Ships in Budapest
West End City Center
Market customs
The Danube in Budapest
Hungary Tourist Guide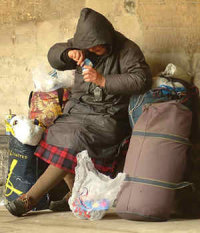 Unfortunately, there are many homeless people in Budapest. It is difficult to say how many there are, but officials guess there are probably between 5 and 10 thousand of them. They live their lives in underpasses, parks and other public places. Even though there are social institutions to provide a heated place and warm food for the homeless during the cold winter nights, people who have fallen out of the bloodstream of society can hardly get back to their normal lives.

Tourists usually meet the homeless of Budapest in the crowded underpasses in the city center. They don't cause any problem, they do not bug the tourists. We recommend you to give one of them about 500 HUF (2 EURO) during your visit to our city, to help him/her buy one day's warm food, making at least one day of his/her life a little better.