Budapest Hotel Guide
Budapest City Guide:
Budapest Public Transportation
Metro Lines of Budapest
Weather in Budapest
Central Market Hall
St. Stephen's Basilica
Gellert Thermal Bath and Swimming Pool
Gellért Hill
Budapest baths
Hungarian National Opera
Museum of Fine Arts
Gallery of Arts
Museums and galleries
Heroes' Square
Budapest Zoo and Botanical Garden
Budapest Amusement Park
City Park Skating Rink
Margaret Island
The Citadella
Sziget Festival
Ráday street
Puskás Ferenc Stadium
Botanical Garden
Budapest Card
Confectioners in Budapest
City structure of Budapest
Ferihegy 1 Airport
Ferihegy 2 Airport
Airline Companies at Ferihegy
Parking in Budapest
Public Toilets
Distances from Budapest
New Year's Eve in Budapest
Air Pollution in Budapest
Pickpockets in Budapest
Homeless People in Budapest
Changing Money in Budapest
Ships in Budapest
West End City Center
Market customs
The Danube in Budapest
Hungary Tourist Guide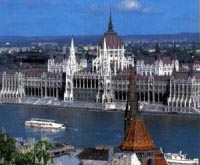 Budapest does not have a large civic ship traffic. Mainly it is the tourists who go on short or medium sightseeing trips on ships, sometimes all the way up to Szentendre. Out of these sightseeing trips, the ones with dinner and during the night are the most popular. Aside from these, there are larger ships for product presentations, conferences and weddings.

Private motorboats roam the Danube only during the summer. Private boat taxis in Budapest are a new service, transporting passengers between the ports of Budapest, usually at an unreasonable rate when compared to normal taxis. Perhaps the newly built and under construction apartment complexes along the Danube in the North will bring a change in this field, as more and more people will consider this alternative to get into the city center.

If you wish to rent a boat or ship in Budapest for sightseeing or any other private event, please visit the following page for additional information: Ship rental.