Budapest Hotel Guide
Budapest City Guide:
Budapest Public Transportation
Metro Lines of Budapest
Weather in Budapest
Central Market Hall
St. Stephen's Basilica
Gellert Thermal Bath and Swimming Pool
Gellért Hill
Budapest baths
Hungarian National Opera
Museum of Fine Arts
Gallery of Arts
Museums and galleries
Heroes' Square
Budapest Zoo and Botanical Garden
Budapest Amusement Park
City Park Skating Rink
Margaret Island
The Citadella
Sziget Festival
Ráday street
Puskás Ferenc Stadium
Botanical Garden
Budapest Card
Confectioners in Budapest
City structure of Budapest
Ferihegy 1 Airport
Ferihegy 2 Airport
Airline Companies at Ferihegy
Parking in Budapest
Public Toilets
Distances from Budapest
New Year's Eve in Budapest
Air Pollution in Budapest
Pickpockets in Budapest
Homeless People in Budapest
Changing Money in Budapest
Ships in Budapest
West End City Center
Market customs
The Danube in Budapest
Hungary Tourist Guide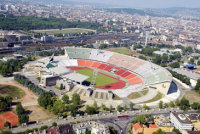 Puskás Ferenc Stadium is one of the biggest stadiums in Europe, on a list that that contains all stadions of the world it occupies the 22nd place. Up until 2002 the construction was known as .Népstadion. to the public, in that year it was renamed Puskás Ferenc Stadium after the legendary Hungarian footballer. The building of Puskás Ferenc Stadium began on 13 July 1948 and finished on 20 August 1953. Imre Németh, the famous olimpic champion in hammer throwing became its first director. The stadium hosted a number of famous sporting events, such as the College World Championship in 1954 or still in the same year the football match between Hungary and England which resulted in a Hungarian victory 7 to 1.

Puskás Ferenc Stadium is 30 metres high, 400 metres long and 50 metres wide, its concrete grandstand rests on 18 giant pillars. Apart from the significant national sporting events numerous cultural programmes and megaconcerts (The Rolling Stones, George Michael) are organised in the stadium. In the 1990.s on the occasion of it being renovated the structure of the upper grandstand was strengthened and the press box was covered. The current capacity of the stadium reaches 75000.

Puskás Ferenc Stadium can be found in the 14th district of Budapest, it can most easily be approached by Metro 2.