Budapest Hotel Guide
Budapest City Guide:
Budapest Public Transportation
Metro Lines of Budapest
Weather in Budapest
Central Market Hall
St. Stephen's Basilica
Gellert Thermal Bath and Swimming Pool
Gellért Hill
Budapest baths
Hungarian National Opera
Museum of Fine Arts
Gallery of Arts
Museums and galleries
Heroes' Square
Budapest Zoo and Botanical Garden
Budapest Amusement Park
City Park Skating Rink
Margaret Island
The Citadella
Sziget Festival
Ráday street
Puskás Ferenc Stadium
Botanical Garden
Budapest Card
Confectioners in Budapest
City structure of Budapest
Ferihegy 1 Airport
Ferihegy 2 Airport
Airline Companies at Ferihegy
Parking in Budapest
Public Toilets
Distances from Budapest
New Year's Eve in Budapest
Air Pollution in Budapest
Pickpockets in Budapest
Homeless People in Budapest
Changing Money in Budapest
Ships in Budapest
West End City Center
Market customs
The Danube in Budapest
Hungary Tourist Guide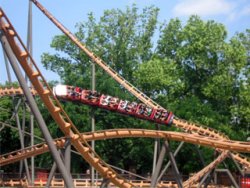 The Budapest Amusement Park (Budapesti Vidámpark) was formed more than half a century ago with the unification of the temporary amusement park (Vurstli) and the so-called English Park (Angol Park). It has been functioning in its current form since 1950, although its history stretches back much further all the way to the 1800's and the beginning of the 1900's.

The park currently operates on a 6.5-hectare plot of land and it features 40 different rides and games, 5 of which are considered historical monuments. English and German language maps and guides are available at the entrance of this spinning, turning, singsong labyrinth. In the past few years, park executives have initiated several improvements with the primary goal of increasing the number of available rides. The looping roller coaster from Scotland, Looping Star, is one of the most popular such enhancement. But there are also other favorites, such as the interactive goal-scoring game Goal King (Gólkirály), and Laser Dodgem (Lézerdodgem), which is one of the world's largest and Europe's only such attraction.

Along with its modern attractions, Vidámpark is also home to several historic rides. Much work goes into the reconstruction and protection of such equipment. Of special significance is the European Nostra-prize winning marry-go-round (1906) or the wooden-framed, 1 km long roller coaster (1922). But we might also note the cave-train (barlangvasút), the background wall of the shooting-gallery (céllövölde), the fairy-tale boat (mesecsónak), and dodgem - all originating from the first few decades of the 20th century. In the near future, park owners want to make the area greener, restore the former lake, and install cobblestone paths in reminiscence of Angol Park.

One million people visit the park each year, many of whom come during the numerous annual festivals and events. Children under 10 can enjoy the mini-park (kis Vidámpark) or the Children's Garden (Gyermekkert). Entry is free but, as with the rest of the park, you need to buy tickets for the rides

Vidámpark is located in Budapest's XIV. district in City Park (Városliget) on Állatkerti körút 14-16 (Zoo Boulevard 14-16). It is easily accessible via mass transit by taking the millennium underground (M1), trolley buses 72, 75, and 79, or buses 4, 20, and 30.