Budapest Hotel Guide
Budapest City Guide:
Budapest Public Transportation
Metro Lines of Budapest
Weather in Budapest
Central Market Hall
St. Stephen's Basilica
Gellert Thermal Bath and Swimming Pool
Gellért Hill
Budapest baths
Hungarian National Opera
Museum of Fine Arts
Gallery of Arts
Museums and galleries
Heroes' Square
Budapest Zoo and Botanical Garden
Budapest Amusement Park
City Park Skating Rink
Margaret Island
The Citadella
Sziget Festival
Ráday street
Puskás Ferenc Stadium
Botanical Garden
Budapest Card
Confectioners in Budapest
City structure of Budapest
Ferihegy 1 Airport
Ferihegy 2 Airport
Airline Companies at Ferihegy
Parking in Budapest
Public Toilets
Distances from Budapest
New Year's Eve in Budapest
Air Pollution in Budapest
Pickpockets in Budapest
Homeless People in Budapest
Changing Money in Budapest
Ships in Budapest
West End City Center
Market customs
The Danube in Budapest
Hungary Tourist Guide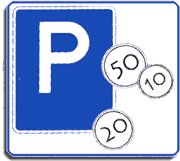 Parking used to be free of charge in Budapest, but during the past years, the entire city center and some of the outer areas became so called parking zones, where a parking fee is required. Cons are obvious: having to pay for parking and a limited number of parking places. Especially near the pedestrian areas, it is sometimes very difficult to find a free place. There are pros as well: cars don't park on the sidewalk as they used to do and there are less cars in the city center.

Tariff varies according to location, the innermost areas being the most expensive. The rate near the pedestrian zones is around 1 EURO/hour. Outer areas are around 0,5 EURO/hour. The vending machine only takes coins. You must pay from Monday to Friday, from 8 a.m. to 6 p.m. every day. Always purchase a parking ticket as the parking controllers patrol the area very frequently, you are sure to get fined if you don't have a ticket. There are very few underground parking houses in the city center, and parking lots built on the land of demolished houses are also evaporating as more and more new apartment complexes are built in Budapest.

Those who are staying in hotels outside of the city center, we recommend parking the car near a metro station and taking public transportation to the center.