Budapest Hotel Guide
Budapest City Guide:
Budapest Public Transportation
Metro Lines of Budapest
Weather in Budapest
Central Market Hall
St. Stephen's Basilica
Gellert Thermal Bath and Swimming Pool
Gellért Hill
Budapest baths
Hungarian National Opera
Museum of Fine Arts
Gallery of Arts
Museums and galleries
Heroes' Square
Budapest Zoo and Botanical Garden
Budapest Amusement Park
City Park Skating Rink
Margaret Island
The Citadella
Sziget Festival
Ráday street
Puskás Ferenc Stadium
Botanical Garden
Budapest Card
Confectioners in Budapest
City structure of Budapest
Ferihegy 1 Airport
Ferihegy 2 Airport
Airline Companies at Ferihegy
Parking in Budapest
Public Toilets
Distances from Budapest
New Year's Eve in Budapest
Air Pollution in Budapest
Pickpockets in Budapest
Homeless People in Budapest
Changing Money in Budapest
Ships in Budapest
West End City Center
Market customs
The Danube in Budapest
Hungary Tourist Guide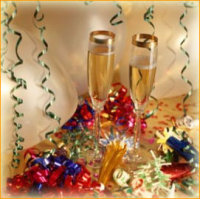 The atmosphere, like in other large cities of the world, is great in Budapest during New Year's Eve. Thousands of tourists visit Budapest during this time of the year to celebrate the coming of a new year. Hotels are usually full, it is very difficult to find decent accommodation during the last weeks prior to the yearend. Those who leave this to the last moments might find themselves confined to the furthest regions of the outer city. Room rates are usually high season rates.

The large open squares of Budapest host outdoor parties, while hotels offer exclusive dinners and live music. If you don't spend the evening in the hotel, be prepared to be able to get back to the hotel as it is rather difficult to get a taxi during the first hours of the new year. We recommend choosing a party within walking distance of the hotel. Even if you do get a taxi, they might charge up to 10 times the normal tariff.