Budapest Hotel Guide
Budapest City Guide:
Budapest Public Transportation
Metro Lines of Budapest
Weather in Budapest
Central Market Hall
St. Stephen's Basilica
Gellert Thermal Bath and Swimming Pool
Gellért Hill
Budapest baths
Hungarian National Opera
Museum of Fine Arts
Gallery of Arts
Museums and galleries
Heroes' Square
Budapest Zoo and Botanical Garden
Budapest Amusement Park
City Park Skating Rink
Margaret Island
The Citadella
Sziget Festival
Ráday street
Puskás Ferenc Stadium
Botanical Garden
Budapest Card
Confectioners in Budapest
City structure of Budapest
Ferihegy 1 Airport
Ferihegy 2 Airport
Airline Companies at Ferihegy
Parking in Budapest
Public Toilets
Distances from Budapest
New Year's Eve in Budapest
Air Pollution in Budapest
Pickpockets in Budapest
Homeless People in Budapest
Changing Money in Budapest
Ships in Budapest
West End City Center
Market customs
The Danube in Budapest
Hungary Tourist Guide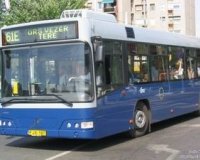 Budapest public transportation is in relatively good shape compared to other major cities in Europe. The public Transport company is called Budapesti Közlekedési Vállalat (BKV).

Unfortunately, getting from the airport to the city by public transportation is rather slow. You have to take bus 200 to the Kőbánya-Kispest terminal, then metro #3 to the city center. The journey takes about 45 minutes altogether.

Buses, trams, trolleys, suburban train, 2 metro lines and a millennium underground make up the public transportation system in Budapest. Most run between 5 a.m. and 10 p.m., while the most important trams and buses run non-stop. One of the main lines is tram 4-6. It runs from Moszkva square on the Buda side, crossing to Pest on the Margareth Bridge, then all the way along the main ring, and back to the Buda side on Petőfi bridge. It's a non-stop line, with buses running instead of the trams during the night.

Tickets can be purchased from vending machines in the stations, from newsstands near the stations and from the official BKV ticket offices. Tourists should consider purchasing daily, weekend or weekly passes, not only to save money, but also to save the trouble of having to purchase tickets for every boarding.

During the past years, ticket control became much stricter. Locals used to make a sport out of traveling without a valid ticket, but nowadays security personnel block anybody without a valid ticket at the metro stations from entering, and night lines are also frequently patrolled.