Ship rental
Rent a ship for crusing, conferences, weddings or other programs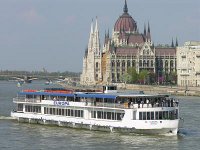 Let it be a short sightseeing program or an all-night family event or a company reception, our boats of different size, structure and equipage are completely at your service. All of our boats are different: each of them has a unique and inimitable style. We own the most beautiful "jewel box" of Hungary (Pannonia) and the biggest conference boat (Európa Boat) as well, in order to give you a great choice. This way, you can surely find the most appropriate one for your taste. Our colleagues will continuously help you in the whole organizing process, from choosing a boat to arranging the event in order to realize all of your plans and ideas from every single aspect.


15-30 passengers boats are suitable for smaller groups for sightseeing and family events.
50-60 passengers boat are elegant and suitable for medium-length trips and high-quality events.
150-400 passengers boat luxury boats are suitable for sightseeings, receptions, banquets and conferences.

Wedding. Conference. Product fair. Exhibition. Theatre event. Banquet. Corporate event. The imposing halls of Europe Ship are appropriate for all kind of events. Music programs, a cigar room, Casino, cocktail and drink-bar are taking the best care of your guests. If you wish, we can provide you our guiding (in Hungarian or in foreign languages) and hostess service as well. We are offering you not only location and catering service, but plenty of other services related to event organizing. These services can be enjoyed by up to 1000 people at the same time.









www.ohb.hu | Programs | Contact us

E-mail:


Tel.: +36 1 900 9071
Fax: +36 1 900 9079

All rights reserved.