Budapest Hotel Guide
Budapest City Guide
Hungary Tourist Guide:
Lake Balaton
Hungarian Specialities
The National Symbols of Hungary
The Hungarian Forint
Tipping in Hungary
Hitchhiking in Hungary
Gifts from Hungary
Formula 1 in Hungary
Hungarian Dishes
Hungarian Travel Dictionary
Railway Transport in Hungary
Postal Service in Hungary
Fishing by Foreigners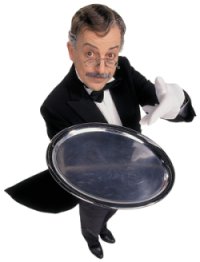 Hungary is one of those countries where tip is supposed to be given for most services. Most often people give a tip at restaurants, however it is customary to further award the services and kindness of taxi drivers, hairdressers, or porters at hotels. Accordingly tipping is present in all situations where the customer and those providing services meat each other face to face. Hungarian and foreign tourists often feel embarrassed about the amount of tip they are supposed to give. The amount and giving a tip at all depends a great deal on being satisfied with the quality of the service and the attitude and manner of the taxi driver, waiter etc...

If we consider tipping at restaurants, nowadays it is a done thing to give a tip, however there are many places now where the tip is actually calculated in the actual price. Usually we give 10-15 % of the official price so that the final price is a round sum, but the tip can never exceed 15 % of the actual price. Normally everyone gives a tip for diffierent services, nevertheless if it can be seen in the behaviour of the waiter, station attendant that he awaits a tip then the customer tends to leave without giving any.

If someone intends to give a tip they should give it at the payment and not just leave it on the table when they leave.