Budapest Hotel Guide
Budapest City Guide
Hungary Tourist Guide:
Lake Balaton
Hungarian Specialities
The National Symbols of Hungary
The Hungarian Forint
Tipping in Hungary
Hitchhiking in Hungary
Gifts from Hungary
Formula 1 in Hungary
Hungarian Dishes
Hungarian Travel Dictionary
Railway Transport in Hungary
Postal Service in Hungary
Fishing by Foreigners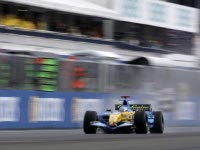 The first Formula 1 race was held in Hungary in 1986, about 30 KM from Budapest, in Mogyoród. The race track is called Hungaroring. Coming from Budapest, the best way to approach the race track is taking the M3 highway. The GPS coordinates of the main entrance are N 47.58346 degrees, E 19.24246 degrees.

The Formula 1 race in Hungary is a major tourist attraction, drawing tens of thousands of visitors to watch their favorite pilot or team perform. Visitors most often stay at hotels and apartments in Budapest, so they can visit the tourist sights of Budapest after the race and join the busy nightlife of the capital. In the immediate neighborhood of the race track, you'll find only low quality small hotels, private apartments and camping sites.

You can get to the racetrack by bus or by private transfer, taxi, etc. It is strongly recommended to settle on the terms and rate beforehand, as many private transfer drivers wish to make a fortune during these days. The race is, by the way, usually held in the second half of the summer, mainly in early August.

During the rest of the year, Hungaroring hosts a number of car and motorbike events, media gatherings. There are very few road sections in Hungary where you can push the gas pedal as hard as on the Hungaroring.