Budapest Hotel Guide
Budapest City Guide
Hungary Tourist Guide:
Lake Balaton
Hungarian Specialities
The National Symbols of Hungary
The Hungarian Forint
Tipping in Hungary
Hitchhiking in Hungary
Gifts from Hungary
Formula 1 in Hungary
Hungarian Dishes
Hungarian Travel Dictionary
Railway Transport in Hungary
Postal Service in Hungary
Fishing by Foreigners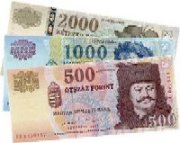 The official currency of Hungary is the Forint (HUF), since 1946. Small change is the Fillér, but it is no longer in use. From 2008, the 1 and 2 Forint coins will be removed from circulation, making the 5 Forint coin the smallest unit.

The smallest note is the 200 Forint, the largest is the 20 000 Forint. Coins range from 5 to 100 Forints.

Some restaurants, cafés, pubs, pensions and hotels, taxi drivers accept the EURO (specially in tourist areas), but the exchange rates vary greatly, so it's better to agree on the price in EURO prior to making the purchase. In the early days of the EURO, some service providers tried to take an advantage of the situation when a foreigner tried to pay in EURO, but that is rare nowadays as the EURO became widespread and most Hungarians are also well aware of the exchange rates.

You can buy Forints at the airport, at banks or in one of the numerous exchange offices in Budapest. During the past years, exchange offices have opened along the main ring, in shopping centers and in other places which are not typical tourist zones. It will not be a problem to purchase Forints in Budapest during your stay. Most exchange offices have reasonable rates. I have met only a few in the city which offer about 15-20% less Forints for your EURO or USD (or other currency) than the official exchange rate of the Hungarian National Bank.

We do not recommend to exchange money at your hotel, as most hotels offer terrible exchange rates. Use that source in emergency only.