Budapest Hotel Guide
Budapest City Guide
Hungary Tourist Guide:
Lake Balaton
Hungarian Specialities
The National Symbols of Hungary
The Hungarian Forint
Tipping in Hungary
Hitchhiking in Hungary
Gifts from Hungary
Formula 1 in Hungary
Hungarian Dishes
Hungarian Travel Dictionary
Railway Transport in Hungary
Postal Service in Hungary
Fishing by Foreigners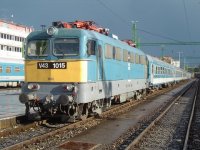 In Hungary, personal railway transport is operated by the Hungarian Railway Company (Magyar Állami Vasutak - MÁV). The center of the railway network is Budapest, from where the trains depart to the larger Hungarian and European cities.

There are three major railway stations in Budapest (Eastern, Western, Southern). The fastest and most comfortable trains are the "Intercity" trains, which are fully air-conditioned. You con only board these trains if you have a pre-reserved seat. The so-called "fast trains" stop only at larger stations, while the "personal trains" stop at even the tiniest stations, making the journey the longest. There are smoking and non-smoking wagons, and 1st and 2nd class wagons. The trains to larger cities and the international wagons almost always have a buffet or restaurant wagon attached.

International trains depart from and arrive to the Western and the Eastern Railway Stations, which are easily accessible by public transportation.

Trains in Hungary depart usually on time, but tend to arrive later than expected. You can purchase tickets at the stations, while if you are late and barely catch the train, you can buy the ticket on board from the person who comes and checks the passengers' tickets.

While waiting for the train to depart from the station, you can purchase magazines, have a café or use the bathroom (not so clean).