Budapest Hotel Guide
Budapest City Guide
Hungary Tourist Guide:
Lake Balaton
Hungarian Specialities
The National Symbols of Hungary
The Hungarian Forint
Tipping in Hungary
Hitchhiking in Hungary
Gifts from Hungary
Formula 1 in Hungary
Hungarian Dishes
Hungarian Travel Dictionary
Railway Transport in Hungary
Postal Service in Hungary
Fishing by Foreigners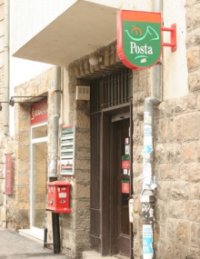 In Hungary, the quality of the postal service is very good. There are several postal outlets in the large cities, especially in Budapest. One of the largest post offices is located next to the Western Railway Station. This post office is open until the evening, as opposed to other offices which usually close at around 4 or 5 p.m. The post offices only get crowded during national deadlines, like tax declare, college and university registration, etc. Most people still pay their overhead costs by cash at the post offices as opposed to a bank transfer, so there is always a line at the pay-in-cash windows.

It is very simple to send a letter from Hungary: just give the addressed envelope to the post office colleague and based on its weight and destination, (s)he will tell you the exact cost, which you have to pay in cash. In addition to sending letters, you can also utilize a few other services at the post offices: international money transfer with Western Union Money Transfer, various insurances, post cards and opening deposit accounts.

During the past years, big multinational parcel services have moved to Hungary. They have won a considerable market share in the corporate segment, but most people rarely use their services. Hungarian individuals prefer the official postal service, the Hungarian Post.