Budapest Hotel Guide
Budapest City Guide
Hungary Tourist Guide:
Lake Balaton
Hungarian Specialities
The National Symbols of Hungary
The Hungarian Forint
Tipping in Hungary
Hitchhiking in Hungary
Gifts from Hungary
Formula 1 in Hungary
Hungarian Dishes
Hungarian Travel Dictionary
Railway Transport in Hungary
Postal Service in Hungary
Fishing by Foreigners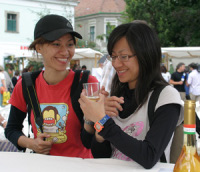 Some useful Hungarian phrases for tourists visiting Hungary:

Köszönöm - thank you
köszönöm szépen - thank you very much
egészségedre - bless you
legyen szíves... - please ...
hogy jutok el a ...? - how can I get to ...?
mennyi az idő? - what time is it?
a nevem ... - my name is ...
az Ön neve? - your name is?
hol tudok tankolni az autóba? - where can I get gas?
hol van itt egy jó étterem? - where can I find a good restaurant around here?
mennyibe kerül? - how much does it cost?
van szabad szoba? - do you have vacancy in this hotel?
milyen messze van innen a ...? - how far is the ... from here?
hol lehet jegyet kapni? - where can I get tickets?