Budapest Hotel Guide
Budapest City Guide
Hungary Tourist Guide:
Lake Balaton
Hungarian Specialities
The National Symbols of Hungary
The Hungarian Forint
Tipping in Hungary
Hitchhiking in Hungary
Gifts from Hungary
Formula 1 in Hungary
Hungarian Dishes
Hungarian Travel Dictionary
Railway Transport in Hungary
Postal Service in Hungary
Fishing by Foreigners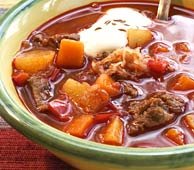 Several Hungarian dishes are prepared and sold worldwide in restaurants and buffets. The most famous is perhaps the Gulyás Soup (gulyásleves) and the Fish Soup of Szeged (szegedi halászlé). The Gulyás Soup is a thick soup with beef, vegetables, potatoes and ground paprika. This is consumed as a soup in Hungary. If you wish to have something like this as a main dish, you have to order the stew version (pörkölt). The Fish Soup of Szeged gets its unique taste from the onion, various kinds of fish and the ground paprika.

If you visit Hungary, the following dishes are a must: Transylvania Wood Platter (erdélyi fatányéros) - various meats, lard, rice, potatoes on a wood platter. Stacked Cabbage (rakott káposzta) - cabbage, sausage, sour cream. Stuffed Paprika (töltött paprika) - paprika stuffed with ground meat and rice, in tomato sauce. Pancakes a'la Hortobágy (hortobágyi palacsinta) - pancakes stuffed with ground meat, in paprika sauce

Famous Hungarian desserts are: Sponge Cake Somlói (somlói galuska) - sponge cake with walnuts, raisins, vanillia and chocolate sauce. Gundel Pancake (gundel palacsinta) - pancakes stuffed with walnuts, with chocolate sauce.