Vén Hajó (Old Ship) Restaurant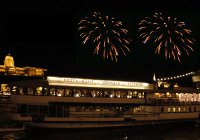 Città: Budapest
Indirizzo: H-1052 Budapest, Pesti alsó rakpart (Kossuth hajó, a Lánchíd mellett)

Take a seat in the beautiful view of the Danube on the anchored Vén Hajó Restaurant at the foot of the Chain Bridge.

The Vén Hajó opens a panorama view of Budapest like a real postcard. And if we really want to impress you we give the menu in your hands.

Homemade and international flavors compete for your grace.

Family occasions, corporate events and culinary demonstrations are also organized in our restaurant. Everybody is invited to lower the sail for a while with a glass of delicious wine. Good company, delicious foods and the the panorama of the Danube bank - could you wish for anything else?

The Vén Hajó Restaurant welcomes you at the Chain Bridge the whole year round.

Next to the Chain Bridge Kossuth Musuemship is worthy for the wonderful view of the Buda Castle. Our peacefully resting ship is perfect for corporate events or family occasions as well.

We have three separated rooms for our guests with 100, 40 and 30 person capacity. It can be a silent dinner with some friends or a corporate event for a hundred people the Kossuth Múzeumhajó gives you the opportunity to spend an unforgettable night in traditional environment with the wonderful view of the Danube bank.Besides we turn your attention to one other room which is especially developed for confidential conversations. For example In this room the waiter steps into just in the case you ring the bell. We can arrange the following type of events: Wedding., Corporate event., Banquet., Family occasion.







---








---
www.ohb.hu | Ristoranti di Budapest |

E-mail:


Tel.: +36 1 900 9073
Fax: +36 1 900 9079

Tutti diritti riservati.