Matthias Cellar (Matyas Pince) Restaurant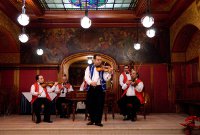 City: Budapest
Address: H-1056 Budapest, Március 15. tér 7.

Serving customers for 107 years

The beer house, named after King Matthias, opened its doors under the management of an experienced barkeeper, Mátyás Baldauf (Borostyánkői), in 1904. The building that houses Mátyás Pince was built by the Dreher Brewery, therefore, of course, a beer house was established on the ground floor.

Our aim is to revitalise Mátyás Pince - just as Hungary itself found renewal during the Renaissance - to return it to the ranks of Hungary.s top restaurants and to make it a favourite place for gourmands.

Using the ingredients and technologies that allow us to meet the expectations of our times as well as those of our guests, our kitchen offers the best of Hungarian cuisine all while keep in touch with its great traditions. Our uniquely planned Menu, translated into 6 languages, offers not only classic dishes, but offers a range of recipes made from good old-fashioned Hungarian ingredients side by side with the imaginative delicacies of contemporary Hungarian cuisine. Our selection of drinks includes not only the finest Hungarian wines, but also specialities from the more than 300-year old pálinka distillery in Gyula.

A Gypsy band is entertaining guests every night from 7 PM to midnight. We invite our guests to join us for live Gypsy music during lunch on Saturdays and Sundays from 12 PM to 3 PM, performed by a band of 3 musicians. Naturally, the musical performances at these times are offered to guests free of charge.

We have expanded our repertoire of entertainment options to include operetta performances that can be enjoyed on Fridays starting at 8:30 PM. Hungarian operetta is a Hungarian specialty. The brilliant operetta composer, Imre Kálmán, is second only to Ferenc Puskás on the list of the best-known Hungarians of all time. Our guests can listen to his and other world-famous composers? songs on Fridays, as interpreted by the performers of the Hungarian State Opera and the Budapest Operetta and Musical Theatre.

Click here to book a room in City Hotel Matyas.







---











---
www.ohb.hu | Budapest restaurants |

E-mail:


Tel.: +36 1 900 9071
Fax: +36 1 900 9079

All rights reserved.