Hajdúszoboszló
Thermal spa resorts and wellness hotels in Hajduszoboszlo, Hungary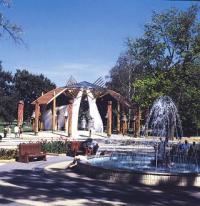 Hajdúszoboszló is on the northeastern part of Alföld, 200 kms from Budapest and 20 kms from Debrecen. It is bordered by three important regions: Hortobágy, Hajdúhát, and the region of Sárrét-Berettyó. The town is one of the earliest known settlements in Hungary - there were permanent settlings here around 3500 BC. Its name first appears in the founding documents of the Abbey of Garamszentbenedek in 1075 as Szoboszlóvásár, although some believe its name is of Slavic origin.

The city's most notable gem is the 73 degree Celsius, peculiar smelling, brownish colored medicinal water which has, since its discovery in 1925, become the prime attraction for thousands of tourists. The country's largest and well-renowned resort not only provides thermal baths, but is home to a beach, a wave pool, a bubble bath, an open-air and closed swimming competition venues. The Aquapark, opened in 2000, is a fun waterslide park reminiscent of the ones found at coastal resorts.

Hajdúszoboszló is rich in museums and historical monuments. We can find Zoltán Rácz's Harangház (Bell Tower) in the park across from the bath resort. It was inaugurated during the millennial celebrations. One of the town's most notable monuments is the XV. century protestant church on Kálvin tér (Kálvin square) with its fortified wall. The murals in the roman catholic church illustrate the city's and the bath's history, and this church hosted II. Pope John Paul during his time as archbishop of Krakow. The Bocskai Museum is also interesting with its folk art collection.

The townspeople's high priority is to provide tourists and bath visitors with quality programs and events year-round. The tourist season is packed with events ranging form Hajdúszoboszlói Nyár (Summer in Hajdúszoboszló), the Hajdúszoboszlói Lovas Napok (Hajdúszoboszló Horse Days) all the way to the bath galas.
---








---
City/region attractions:

* parks * thermal baths
---
Hotels:
Hotel Rudolf

Category: * * *

Hotel Rudolf*** is located in Hajdúszoboszló, a city famous for it's thermal water. Our hotel has the disposal of 37 double-bedrooms, 5 rooms with three beds, 6 apartments and 2 suites.

Hotel Silver

Category: * * * *

Hotel Silver**** is located in Hajdúszoboszló, in the resort quarters of the spa in East-Hungary, world famous for its medicinal water, next to the Town Bath (Városi Fürdő) and Aquapark.

Hotel Barátság

Category: * * *

In our 139 fully renovated rooms, we offer excellent opportunities for those who want to recover, recreate, and rest. All the rooms have a balcony and a bathroom, and are equipped with colour TV, telephone, minibar and safe.

Hunguest Hotel Béke

Category: * * * *

Hunguest Hotel Béke awaits its guests in the green area of Hajdúszoboszló. The building is directly connected with the spa enabling a quick and easy access of the therapy section and the internal pools.

Hunguest Hotel Aqua-Sol

Category: * * * *

Hunguest Hotel Aqua-Sol is located in the neighbourhood of Hungary's largest, dynamically developing medicinal spa, in the tourist centre of the town.

Hotel Atlantis

Category: * * *



Hotel Korona

Category: * * *

The Hotel Korona*** was built in 2000, its modern and comfortable furnished rooms with bathroom and shower, satellite TV, telephone, refridgerator and minibar provide the comfort to our guests.

Hotel M

Category: * * * *

The 4-star Hotel M is waiting for its guests since april, 2007. It offers a real sensation of wellness, recreation and careful treatment. This is the first hotel in Hajdúszoboszló that stresses the importance of getting to know, understand and learn the real meaning of the notion "wellness" as a lifestyle.


www.ohb.hu | Contact us

E-mail:


Tel.: +36 1 900 9071
Fax: +36 1 900 9079

All rights reserved.