Big Ben Club Győr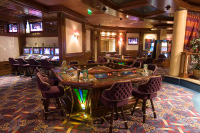 City: Győr
Address: H-9021, Baross Gábor u. 24.
Tel.: +36 96 518 715; +36 96 518 716


The freshest entertainment complex of Győr awaits you! In the most frequented area of the city, in the heart of Győr in the pedestrian street, the unique entertainment and hospitality center of the region awaits its guests. As a true pearl of the city center, the Big Ben Club offers a wide range of possibilities in the magnificent building for business meetings, conferences, family gatherings, balls, protocol events, etc.

Big Ben Fortuna Club: unique in the region, we await our guests with an elegant and nostalgic fortune club, where all can try their luck and have a taste of the old golden days when the casino meant the main site for higher cultural interactions. Our aim is to make this form of entertainment available to all. We do this at the highest level, among beautiful decorations and accompanied by excellent services. In the game room, the nostalgic atmosphere mixes with modern technology. Our machines are of the newest technology and run on the best programs . Want to try how the wheel of fortune turns? You can try the roulette table alone or in small groups of up to 8 persons. This is an ideal place for friends to get together or even for teambuilding, as playing together brings in creativity and guaranteed joy!

Visiting: Must be 18 or above to enter. Entrance is free of charge. Have never been to a casino? Our trained staff will not let you alone. Our hostess ladies will assist you, and explain you the rules of games, which might seem to be complicated at first sight.

Restaurant: Our restaurant has a capacity of up to 150 persons, and the table structure can be tailored to the specific needs of the client. Smaller groups from 2 to 30 persons can be separated in section areas. We have an outside catering service as well, for up to 300 persons. Coffee break, buffet lunch or reception? Accompany your business meetings, company presentations with delicious food! Our restaurant will satisfy all your needs, so you can concentrate on your work instead. The Big Ben Club, with its central location, elegant interior, modern technology and trained staff, is a guarantee for success. Unique plasma system, WiFi and professional sound system are available for our partners.

Separate room: Our elegant separate room is an ideal location for private business dinners, events and presentations. The room is equipped with the latest technology, and with internet connection, plasma TV and special audio-visual system. All this technology is available to serve your needs to the outmost.

Wine Saloon: As a special part of the restaurant, a wine saloon is available to our guests. You can try here both Hungarian and International quality wines and palinkas. Authentic interior and comfortable sofas.

Club Membership: You can get a membership by applying to any one of our staff. After taking you personal data, you will become a member of the club and get first hand information on events and special offers. VIP cards are available to those who visit the club quite frequently and consume/play above average. VIP memberships are decided by the management of the club. VIP members get a discount on their consumption and get special attention from the staff.

The wide range of services offered by the Big Ben Club guarantee your well being during your visit. 24h reception and wireless internet is available in the club. Reservations and requests are welcome any time during the day.

Opening hours:
Fortune Club: all day
Restaurant:
Sunday - Thursday: 10 a.m. - 11 p.m.
Friday - Saturday: 11 a.m. - 12 p.m.


---








---
www.ohb.hu | Contact us

E-mail:


Tel.: +36 1 900 9071
Fax: +36 1 900 9079

All rights reserved.