Symbol Budapest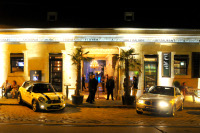 City: Budapest
Address: H-1036 Budapest, Bécsi út 56.

Budapest's new miracle: the SYMBOL

SYMBOL Budapest awaits its esteemed guests in the heart of Óbuda, close to the Margaret Island. The 220-year-old building in this famed part of the city, rebuilt in 7 years by 80 artists combining all the beauty of the modern era, offers an unparalleled experience. Guests are welcomed in a special milieu with breathtaking architecture and ambience, outstanding cuisine and a fantastic service.

The seven different units of the SYMBOL are separated in both space and style, and nonetheless provide a special experience as a unified whole to the guests of the house.

SYMBOL GARDEN: Be it winter or summer, day or night, the atmosphere of the court in the midst of the complex takes the breath of every visitor. The extensive, ominously bluish and pompous Bombay Bar, the own world of the terraces, the huge ventilators integrated into the roof structure, the living gardens and the original garden well under the glass disc offer an exceptional experience; the real surprise hides inside the well, though...

PUSKÁS "PANCHO" SPORT PUB, where legends are reborn. The exclusive Sport Pub was established and named worthily after one of the best footballers of the world and maybe the best-known Hungarian. The floor is covered with original cowhide, and on the walls we can recognise relics and pictures of the "legendary ten". We may also choose among their favourite dishes and watch the world's leading sporting events on one of the 15 plasma screens, often in the company of famous Hungarian sportsmen.

ITALIAN FUSION RESTAURANT: The wood stoves, the open display kitchen, the special interior and Paolo Petris's fusion cuisine of Italian origin create a truly Mediterranean atmosphere.

CAFE&LOUNGE: The modern, and at the same time friendly room allures with a wide selection of coffee specialities and fine confectionery.

220-YEAR-OLD CELLAR RESTAURANT: Hungarian, Swabian and Jewish specialities from original hood-ovens are served in the wine restaurant, built in 1783 under the building. Combined with a selection of 220 different types of Hungarian wines the guest experiences a true travel in time. Plus, there is the opportunity of wine and liquor tasting among the cellar's selection.

GALERY AND FUNCTION ROOM: The paintings of contemporary Hungarian artists await the cultural enthusiasts.

LIVE MUSIC CLUB: This two-story establishment with gallery offers a high-stage alternative for night owls - the most recent jewel of the capital's nightlife.







---








---
www.ohb.hu | Budapest restaurants |

E-mail:


Tel.: +36 1 900 9071
Fax: +36 1 900 9079

All rights reserved.