Leguan Cafe+Bar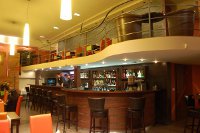 Stadt: Budapest
Addresse: H-1075 Budapest, Kazinczy u. 52.

The essence of life is seizing the moment...

The idea was spawned under the shadow of the willow tree in Holló Street next to Gozsdu Court, in the centre of old Budapest.

The art deco restaurant is hidden in the atmospheric alley ways.

Inner city Pest has a thousand facets. We are the authentic reflection of this colourful mix, perfect fit for smaller or larger groups or individuals.

LCB is a smart but casual place. Guests may choose to dine in the gallery or in the private room. Meetings and functions can be separated. We have a large and fully stocked bar, and as of spring an outdoor dining area which can seat up to 100 guests.

We serve the fusion of traditional and modern cuisine. Our menu includes international and classic Hungarian dishes.

We have an exclusive selection of Hungarian wines and pálinka and a wide variety of drinks and cocktails. We provide personal and flexible service at modest prices.

Seize the moment in the realm of senses; capture the mix of perfect atmosphere

...the vision
...the taste
...the scent.

5% discount when booking a table on www.ohb.hu!







---







---
www.ohb.hu | Budapester Restaurante |

E-mail:


Tel.: +36 1 900 9072
Fax: +36 1 900 9079

Alle Rechte vorbehalten.