Kiraly Restaurant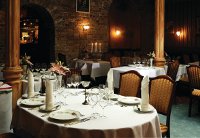 Ciudad: Budapest
Dirección: H-1014 Budapest, Táncsics Mihály u. 25.

Király Hungarian Restaurant is located in the Castle District which is one of the most beautiful cultural-historical areas of Budapest.

Király Restaurant is one of the best restaurants in Budapest to taste authentic Hungarian cuisine combined with the latest international trends.

Not only does the restaurant offer a fantastic traditional Hungarian dinner, but also an entertaining evening programme. It is a place where people can get a bit of Hungarian culture withouth the "touristy" feel.

Our guests will receive an excellent service and a delectable menu in the heart of the Buda Castle in Budapest.. The restaurant has earned many awards since its opening, such as the Best International Cusine in Budapest, the Best Romantic Restaurant in Budapest, the Best Restaurant with Entertainment and the Best Hungarian Restaurant in Budapest. The Király Restaurant is also a member of the Club Prosper Montagne Association. The club was found in France with the aim to promote and improve high quality gastronomy.

Chef Mr. László Babits whose Hungarian cuisine inspired by the rhythm of the seasons and the laudable ingredients, always selects and uses the finest seasonal Hungarian ingredients to keep the highest quality standards in his kitchen.

In the warm and welcoming atmosphere our guest can savor creative coctails and delicious wine and pálinka selections, an a la carte menu and delectable late desserts.

While there is a Király.s Room for private dining, the restaurant is also a distinctive destination for family occasions - weddings, birthday parties - official dinners and group events complete with our event planning staff at our guests' disposal. On personal request we can organize your family or business party ensuring high-quality service and an enjoyable dining experience.

Király Restaurant.s staffs are dedicated to offering our guests a wonderful dining experience based on the quality of our ingredients, our cusine and our very caring approach to personalized service.







---







---
www.ohb.hu | Restaurantes de Budapest |

E-mail:


Tel.: +36 1 900 9071
Fax: +36 1 900 9079

Todos los derechos reservados.