Gerbeaud Café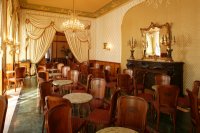 City: Budapest
Address: H-1051 Budapest Vörösmarty tér 7-8.

The legendary Gerbeaud, in the heart of Budapest, is one of the largest, most traditional, and most famous café-confectioneries in Europe. The café was established by Henrik Kugler in 1858 and expanded by its later owner, Emil Gerbeaud, and by 1990 was already world-famous. Lovingly renovated in 1997, Gerbeaud shines with the cultured nostalgia of its original days: rich plaster work, magnificent chandeliers, marble tables, lavish fine wood paneling, and brocade wall coverings that characterise the elegant, yet comfortable atmosphere of this home of tradition.

Gerbeaud 's specialities include famous cakes, such as Esterházy and Dobos cakes, as well as all kind of cream cakes, extravagant bakery goods and exquisite ice-creams. Up to 330 guests can enjoy the classic coffee-house atmosphere in the various salons, whiling away the day reading newspapers, chatting, people-watching, and thinking. On warm days, there is room on the terrace for an additional 300 guests. Here, directly on the busy Vörösmarty Square, the motto is "to see and to be seen".

For groups of 10 or more, we offer café menus or snacks, which, with prior notification, can be prepared for you in one of our salons. By arrangement and according to availability, we can also put individual salons exclusively at your disposal.







---
---
www.ohb.hu | Budapest restaurants |

E-mail:


Tel.: +36 1 900 9071
Fax: +36 1 900 9079

All rights reserved.