Forgó Restaurant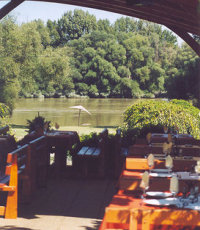 City:
Address: H-2023 Dunabogdány, Strand u. 2.

Big and Tasty!

"I just want to tell you, what a pity that I did not find you before, but next time your restaurant won't be missed. Your fish soup made from carp's fillets and all the others we ordered were very delicious. Thank you for kind service!" B. Laszlo

Dunabogdany lies in the fabulous Danube Bend, 36 kms to north of Budapest, just 5 kms from Visegrad. Restaurant Forgo - founded by Family Jakab in 1988 - is situated in the centre of the swab village, 30 metres from the main road No 11, right near the sandy beach of the Danube with beautiful view to the river. The main hall of the restaurant is suitable for 160 guests. Terrace covered by canvas can seat again 160 persons in summer time. The Private room gives the possibility to welcome 70 guests.

The menu card shows all specialities of the traditional Hungarian and Swab cuisine, including dishes made of fish and wild meat. It is well-known: our meals are not only very delicious, but do have Big portion. From spring to autumn guests are welcome on the grill terrace, too. We also offer different kinds of quality wine from almost every wine region of our country.

"Thank you for your service and fine meals. What I would offer to everybody from the menu card: oxtail soup, veal cutlet a'la "Kedvessy" and gnocchi charged with eggs. But according to our experience, everything is fine in Forgo. See you soon again!" M. Attila

We have special offers for any occasions of families, friends, companies and tourist groups: menu or buffet, Oven and stew-pot, wine tasting in cellar of the wine yard, Grill Terrace. Our restaurant is a perfect place to arrange your wedding, party, family and company meeting, programme and training, etc. Reservation for outdoor catering service is also possible (eg. picnic, boat).

Extra: you can make your excursion in the Danube Bend more exciting when reserve a short Danube Cruise on route eg. Visegrad - Dunabogdany, as a part of your full day bus tour. Your cruise will be confirmed at discount rate with group menu reservation to Restaurant Forgo.

Thanks for your great help in organizing our wedding, also the fantastic arrangement, the unbelievable great cuisine and the incredible attention. We are looking forward to taste your fantastic stuffed cabbage.! Krisztian and Gabi

You can drink, we drive! Feel free to enjoy your dinner and some drinks with your table companion! The driver would be not you; this time we are going to arrange your transfer. Our minibus service for 2-7 persons takes you free of charge to Restaurant Forgo and back within 15 kilometres (Visegrad, Tahi, Leanyfalu).

We promise to take care of you also in a perfect way! Guaranteed by our 30-year-experience!
Visit us and eat a Big and Tasty!

Opening hours: daily from 11:30 a.m. to 10 p.m. On Friday and Saturday from 11:30 a.m. to 12 p.m.







---
















---
www.ohb.hu | Budapest restaurants |

E-mail:


Tel.: +36 1 900 9071
Fax: +36 1 900 9079

All rights reserved.