House of Hungarian Wines
Wine tasting in Budapest, Hungarian wines and palinka, in the castle district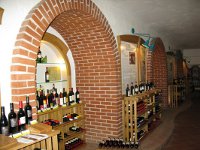 Welcome to the House of Hungrian Wines - in the cellars of Buda Castle Hill where one can taste the best wines of all 22 wine regions of Hungary. After the virtual tour of these wine regions represented in the 500 sqm cellar visitors can taste and get acquinted with the products of the top wineries, quality standards, characteristics and history of the different wines and grape types.

Our professional multilingual sommeliers will give the visitors the insights on the miracles of wine making.

In our unique and exciting cellar labyrinth one can familiarize not only with the wellknown wineries, but also get the most on wines of traditional family-run wineres and wine craftsmen. Beside offering the most extensive wine selections of the country the cellar gives home for 40 different fruit brandy (palinka) specialities which are categorized as real "Hungaricum".

Having tasted our selection of wines offered in carefully compiled sampling selections one can enjoy an assortment of hand crafted cheese. It is also possible to purchase the products in lots (by bottle and by box); our House guarantee safe worldwide delivery of the purchased bottles in co-operation with UPS.

Exploring the possibilities of our huge function hall - accomodating 80 to 100 visitors,- as well as our lecture room of 10 - 15 persons capacity and the extensive cellar system the House of Hungarian Wines - Buda Castle Hill - give venue for special functions, private and corporate banquets, family and wedding parties, wine tasting events as well as wine making and sommelier courses, vinicultural exhibitions, musical and literature nights.

Another service offered by our House to private collectors is the rental of wine safes for safeguarding expensive and rare wine specialities.









www.ohb.hu | Programs | Contact us

E-mail:


Tel.: +36 1 900 9071
Fax: +36 1 900 9079

All rights reserved.