Operetta Ship
Music, Dance, Budapest Sightseeing and Dinner on the Operetta Ship
Our offer: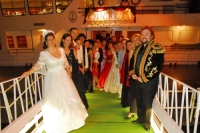 We'd like to kindly invite You and your kind friends to an unforgettable musical, gastronomical and touristic experience, to the OPERETTA-SHIP. During the candle-lit voyage the international program of excellent singing, instrumental and dancing artists, called the Operettaship Association formed by the members of the Hungarian State Opera House will guarantee Your entertainment. They sing and play the most popular passages of operas, operettas, Italian, Spanish songs, musicals in the original languages, instrumental solos, and perform brilliant folklore, classical and step dances in elegant costumes.

During the exclusive voyage, while admiring the wonderfully lit night view of Budapest, you can choose from the favourite dishes of Ferenc Lehár, Imre Kálmán, Johann Strauss. The program lasts from 8 to 10 p.m.

The program are held on 22 March, and from 4 April 2008 to 31 October 2008 every Mon, Wed, Fri, Sun. (except 20. August) from 8 to 10 PM, from 01st November 2008 every Saturday, from 8 to 10 PM.

The programme is guaranteed and not depending on the weather and groups can order the performance to any day of the year.

New!

Air-conditioned auditorium, 250 square meters of terrace, dancing possibility after the performance.
We're waiting our guests with a renewing smorgashbord menu at our new port of departure: Vigadó tér 9 (at Március 15. square)
with Hungarian, English and German guides

Price with dinner, program, cruise, glass of champagne:
Adults: 12.800 HUF/person.
Children (under the age of 12): 9.000 HUF/person.

Price without dinner, only program, cruise, glass of champagne
Adults: 7.900 HUF/person.
Children (under the age of 12): 6.000 HUF/person.

Sightseeing price: Exclusive live show with gratis two-hours sightseeing "music" boat, with guiding and dancing possibility.
Adults: 4.900 HUF /person
Children (under the age of 12): 4.000 HUF/ person
---








---

www.ohb.hu | Programs | Contact us

E-mail:


Tel.: +36 1 900 9071
Fax: +36 1 900 9079

All rights reserved.