Sightseeing by helicopter
Sightseeing, Passenger Service, Fulfilling Individual Requests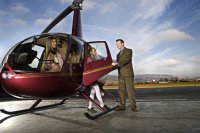 Our company was established to serve all our business and leisure customers requirements. Our foremost considerations in choice of helicopter is safety and reliability. Like most helicopter owners in the world, we fly Robinson's R44 Raven 1. These American 3- man machines are the most popular in the world because of its elegance, its equipment set up and it is the most reliable in this category of aircraft. We offer our passengers BOSE headsets to cut out noise and cater for their comfort with leather seats. Our passengers can enjoy the scenery whilst listening to music or talking to each other and to the pilot. Crew (csapat/legénység) Our skilled and dynamic team are ready to meet the challenge of fulfilling our customer's every need.

Sightseeing:

Budapest is thought to be one of the most beautiful cities on earth. Why not enjoy its wonders from the air too? Our routes fly over the best sights Budapest and its surrounding have to offer, giving you an experience to remember all your life.

Passenger Service:

Is it important for you to get to a faraway meeting quickly or to avoid driving for hours for a weekend away? If so, the best choice for you is our company because, beside helicopter travel being fast and safe, during the flight you can admire the beauty of the scenery. We can also arrange the free transfer for your employees or luggage so that they meet you at your destination when you arrive.

Fulfilling Individual Requests:

Whatever is your desire, we will fulfill it. Maybe you want to arrive at an event in style, or transfer people to and from a wedding, or even fly off on a romantic evening sightseeing flight... The only limits are your imagination and safety.
---








---

www.ohb.hu | Contact us

E-mail:


Tel.: +36 1 900 9071
Fax: +36 1 900 9079

All rights reserved.