Nyíregyháza
Tourist information, pictures, and hotels for Nyíregyháza, Hungary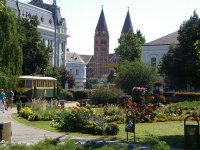 Nyiregyhaza is the capital of Hungary's north-eastern Szabolcs-Szatmár-Bereg county. First mentioned in 1209, the city has gone through constant development during the centuries: first as an administrative settlement and later as a center for royalty. Construction of the public hospital and the new city hall were completed during these years, and the first street lighting appeared. Crown house (Korona ház) was home to several stores, Sóstó Inn, a bathhouse, a restaurant, as well as a kindergarten and a school. It became the county's center in 1876 and soon gained a telegraph office, a postal and water-utility center, a theater, and by 1911 it even had its first tram.

The historical city center is filled with architectural gems of the XVIII-XIX century. This includes one of the most valuable monuments of the city, the baroque evangelical church, which is also an important musical venue. We should also check out the City Hall which is reminiscent of the main square (fotér), the Kossuth statue, or the double-towered roman catholic church. Its secessionist Bristol Hotel and the Greek-Catholic episcopate (with its historical collection) are also worth a mention.

Several museums and galleries also await visitors throughout the city. Especially interesting are the City Gallery (Városi Galéria), the historical articles of the Kállay Collection (Kállay Gyűjtemény), or the Jósa András Museum. The city is famous for its healing baths - for example Sóstógyógyfürdő is a nice place to spend your holiday. It is home to the country's largest zoo (outside Budapest), northeastern Hungary's only outdoor ethnographic museum, the Museumtown (Múzeumfalu), and the prestigious Krúdy Events Hall (Krúdy Vígadó). Enjoy the relaxing atmosphere of the Park Pool (Parkfürdő), the Lake Pool (Tó fürdő), the Bathhouse (Fürdoház) or Sóstó's latest attraction, the Aquarius Waterpark (Aquarius Élményfürdő). Children can enjoy the "Chi-hu-hu city mini-train", the omnibus (resembling the old trams), or travel around the area is quite comfortable on a horse and carriage or some rented bicycles. The lake is suitable for paddleboats or rowboats, but you can choose to simply enjoy the beautiful panoramic view.
---





---
City/region attractions:

* historic buildings * museums * parks * theaters * zoo
---
Hotels:
Korona Hotel

Category: * * *

Korona Hotel is located on the main square in Nyíregyháza, an ideal starting point for those who wish to discover the city or the county. We have 25 air-conditioned rooms, with bath, minibar, WiFi internet and TV.

Hotel Continent

Category: * * * *

Welcome! It is our pleasure that you have chosen our hotel, where we shall bid you welcome in the solidly elegant, English-like, friendly atmosphere!

Lugas Hotel

Category: * * *




www.ohb.hu | Contact us

E-mail:


Tel.: +36 1 900 9071
Fax: +36 1 900 9079

All rights reserved.