Miskolc
Tourist information, pictures, and hotels for Miskolc, Hungary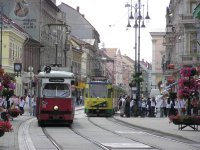 Miskolc's history stretches back to the ancient culture of the ice age era. Its first inhabitants, a Celtic tribe known as the Cotini, began to settle here at the end of the Iron Age. Hungarian settlers first arrived more than a thousand years ago. In the XI. century, the town became center for the Miskóc family, and in the XIV. century Hungarian king Louis the Great acquired the territory. The Turkish battles destroyed many of the buildings, but in the XVII. century Miskolc was rebuilt: churches, schools, and a new city- and county-hall were constructed.

Thanks to donations from residents, the country's first Hungarian stone theatre was built here in 1823. A brief depression after the war gave way to an industrial and population boom in the 60s and 70s. During the 80s, reconstruction of the city center began, and the process continues to this very day.

The city's most important site is also its symbol: sitting atop Miskolc's "mountain" (Avas hill) is the observation tower and the gothic Avas Church (Avasi Templom). Miskolctapolca, Lillafüred, and Felsohámor are famous for their natural beauty. Tapolca has a massive park, a beautiful recreational boating lake, and a unique cave-bath. The most important sites in Lillafüred and Felshámor include the Palota Hotel, Lake Hámor (Hámori tó), and the Anna and Stephen caves (Anna barlang, István barlang). The city center is filled with churches and museums.

Miskolc has a vibrant cultural atmosphere. Massive events, festivals, and concerts await those looking for entertainment, while fans of the more serious arts can enjoy theatrical performances, recitals, poetry nights, and the opera festival. The Castle of Diósgyőr (Diósgyőri Vár) hosts medieval games every summer.
---














---
City/region attractions:

* historic buildings * museums * parks * theaters * thermal baths
---
Hotels:
Hotel Károly

Category: * * *

From the top of the eight - storied building the beautiful Sajo - dale, the Zemplen - mountain, the Tokaj - rise and the Abauj - hills bursts upon our view.

Hotel Szeleta

Category: * * *

Hotel Szeleta is in Miskolc-Lillafüred, inside the Bükk Mountains National Park. Because it is located at the eastern gateway to the Bükk Mountains, nestling in a beautiful valley surrounded by forests and on the banks of the river Szinva.


www.ohb.hu | Contact us

E-mail:


Tel.: +36 1 900 9071
Fax: +36 1 900 9079

All rights reserved.