Komárom
Tourist information, pictures, and hotels for Komárom, Hungary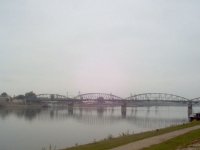 The city of Komarom is located in western Komarom-Esztergom county of northern Hungary, on the right bank of the Danube. Elizabeth bridge (Erzsébet híd) connects the city with its former northern district - this is now Komarno of Slovakia. Western Komárom is renowned for its natural beauty, its unusual landscape, and Koppánmonostor, an abbey that was completely destroyed during the era of Turkish rule; but we might also note eastern Komárom's famed roman center of Szony (Brigetio).

Hungary's first king, Stephen, founded Komárom. Its golden age began when Hungarians settled the area following the roman age. It became a popular resting place in the XV. century after a stronghold was built on the northern bank of the Danube. The castle was further fortified on its city front, and by the XVII. century the pentagon-shaped Újvár was completed. In 1809 Komárom became the capital for a short period when Francis I and the Hungarian royalty fled here from Napoleon. This is how Komárom became the "city of forts". Monostori erod (Monastery Fort), Csillag erod (Star Fort), and Igmándi erod (Fort of Igmand) are still standing today.

The city's notable sites include the Klapka György Museum where along with a number of temporary exhibitions, one can always view displays of the fine- and applied arts, as well as local and ethnic history related to Komárom. The museum is home to the Római Képtár (Roman Gallery), with its stone statuettes from Szony, and the country's only commercial and military marine collection, the Magyar Tengerészettörténeti Gyujtemény (Hungarian Marine Historical Collection).

At downtown's main square (fotér), you will find the reformed church with Mór Jókai's bust and the city's oldest building that once served as a postal station. Szent Teréz Kápolna (Saint Teresa Chapel), Jézus Szíve Romai Katolikus Templom (Heart of Jesus Roman Catholic Church), and the statue and personal items of Zoltán Czibor (the legendary player in Hungary's "golden football team") are all notable sites. All the while, Komárom's thermal bath awaits those who wish to soak a bit.
---






---
City/region attractions:

* historic buildings * museums * parks * theaters * thermal baths
---
Hotels:
Hotel Corner

Category: * * *

Our Hotel is easy to reach on Route 1 towards Győr. It is about a five minutes drive from the industrial park. The rooms are all equipped with satellite TV's, DSL Internet connection, minibars, adjustable air-conditioning system and direct telephone lines.


www.ohb.hu | Contact us

E-mail:


Tel.: +36 1 900 9071
Fax: +36 1 900 9079

All rights reserved.