Kecskemét
Tourist information, pictures, and hotels for Kecskemét, Hungary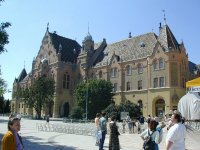 Kecskemét carries with it all the beauty and wonder of Alföld (the "Great Hungarian Plain"). Bács-Kiskun county's capital is located in central Hungary, 80 km from Budapest. Hungary's famous poet, Sandor Petofi once called Kecskemét "hírös város" ("famous city" in local dialect) - and rightly so: it is a mix of historical heritage and the modern. True human ingenuity created this authentic European town in the middle of a wind-blown sandy region.

Although first noted in 1353 as a tiny place, Kecskemét was referred to as a city just 15 years later. After the loss of Mohács in 1526, the city fell under Turkish rule, but nonetheless emerged as one of the most important settlements in the central-Hungarian region. The Rákóczi War of Independence in 1703 was another blow from which it took decades to emerge. But the city managed, due in large part to market fairs that were organized several times a year and attracted people and goods from all over the country.

The age of reformation brought on a new demand for culture and education: this was the birth of the casino with a library, lending of periodicals, a printing press, and a theatre. The city's beautiful public buildings are reminiscent of times past: the Main Church (Nagytemplom), the baroque Piarist Church, or the reformed dormitory (Református Ókollégium).

The hometown heroes of Kecsekemét are on display in the Kodály archive and exhibition (Kodály archívum és emlékkiállítás - housed in the former Franciscan monastery) and in the József Katona Memorial Museum (Katona József Emlékház - found in the museum built on his birthplace). Some of the city's most interesting secessionist buildings include the Kecskemét Gallery (Kecskeméti Képtár), which is housed in Cifrapalota (Garnished Palace). This is home to Menyhért Tóth's oeuvre and a collection of XIX-XX. century Hungarian paintings. Other notable collections include the Leskowsky Musical Instrument Collection (Leskowsky Hangszergyujtemény), the Bozsó Collection (Boszó Gyujtemény), the Ráday Museum (Ráday Múzeum), the Mineral- and Palaeonthological Collection (Ásvány- és Oslénytani Gyujtemény), and the Kecskemét Fruit Pálinka Factory and Exhibition (Kecskeméti Gyümölcspálinka Fozde és Kiállítás).

Kecskemét is proud to be known as the "city of festivals". Fans of the arts and tourists from all over flock here to visit the wide array of festivals and programs from early spring to late autumn.
---





---
City/region attractions:

* historic buildings * museums * parks * theaters
---
Hotels:
Három Gúnár Hotel & Events House

Category: * * *

Our hotel, the three-star Hotel Három Gúnár, is situated in the heart of Kecskemét. Since the addition of the elegant Events House in 2002, it has been home to many superbly organised events.

Arany Homok Business and Wellness Hotel

Category: * * * *

The Aranyhomok Business-Wellness Hotel**** can be found in one of the country's most beautiful main square surrounded by churches of 5 different denomination. Our balconies have a unique view of the historic city. We are looking forward to your visit.


www.ohb.hu | Contact us

E-mail:


Tel.: +36 1 900 9071
Fax: +36 1 900 9079

All rights reserved.