Debrecen
Debrecen hotels, hotel, pension, accommodation in Debrecen, Hungary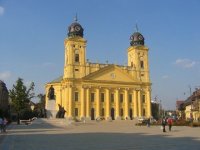 Debrecen is the second largest city in Hungary, the scientific and cultural centre of the eastem part of the country. The town of festivals lies 220 kilometres from Budapest. Large part of the city's touristic attraction is related to its geographical position, religious traditions, cultural values and events.

The main square formed to walking area fascinates the visitors of Debrecen, which cites real Mediterranean atmosphere with its evocative terraces and the largest ceramic fountain of Europe. Its renewed oldest square, Déri square is one of the city's cosy corners with its quiet plashings and comfortable benches.

The programs of the city are world famous. More than 100 thousands of people come to see the different festivals: Debrecen Spring Festival, International Choir Competition Béla Bartók, Debrecen Jazz Days or Debrecen Flower Carnival to mention the most important ones. Our city is proud of more and more concerts, sporting events, among these world - competitions with the building the unique Főnix Event Hall.
---




---
City/region attractions:

* cathedral * festivals * historic buildings * museums * parks * theaters * theme park * thermal baths * zoo
---
Hotels:
Hotel Platán

Category: * * * *

One of the new hotels in Debrecen, 5 minutes from the city center, along road #47 and in the immediate neighborhood of the Debrecen Airport. Various types of rooms, cozy atmosphere, air-conditioned restaurant and reasonable rates await our guests.

Hotel Divinus

Category: * * * * *

By the opening of the five-star Hotel Divinus, Debrecen's hotel network has been crowned finally. The decent hotel wearing Mediterranean colours, which can be found in walking distance from the city centre, represents a new quality and approach in the hotel industry.

Hotel Lycium

Category: * * * *

Hotel Lycium was erected in the heart of Eastern Hungary's most dynamically developing city, Debrecen, as set in the direct vicinity of the Great Church and Déri Museum.

Best Western Hotel Kálvin

Category: * * *

Being Hungary's second largest city, Debrecen is the cultural, scientific, economic and commercial centre of East-Hungary and is situated 37 km from the Hortobágy Puszta, a World Heritage site.

Hunguest Hotel Nagyerdő

Category: * * *



Pension Stop

Category: * * *

Our guest-house is situated in a calm and pleasant area in the centre of Debrecen. The 2- and 3-bed rooms are equipped with bathroom and TV. Our guests may leave their cars at our closed parking lot.

Hotel Aquaticum Debrecen

Category: * * * *

Located in the city of Debrecen, in a nature conservation area, just in the heart of the Great Forest. Offers inside and outside pools, thermal bath, sport and wellness services as well as excellent conference facilities.


www.ohb.hu | Contact us

E-mail:


Tel.: +36 1 900 9071
Fax: +36 1 900 9079

All rights reserved.