Békéscsaba
Tourist information, pictures, and hotels for Békéscsaba, Hungary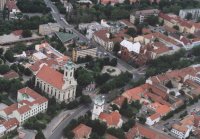 Also known as the country's eastern gate, Békéscsaba lies in the center of Körös valley (Körös-völgy). It is Békés county's cultural, commercial, and educational center. It was first mentioned in the later part of the XIV. century, and according to some, its name originates from the forename "Csaba", which was already widely used during the Árpád era. By the end of the XVIII. century it became the county's largest town, and it became the capital in 1990. Békéscsaba is not rich in historical monuments, but its framework of squares, streets, walkways, and fancy buildings are a good reflection of the old city center. Historical City Hall is in the focal point, with its Miklós Ybl-designed façade. The courtyard is a prestigious musical venue during the summer and his home to numerous events and festivals. Fiume Hotel and the theatre are also close by.

The evangelical chapel, the secondary school, the double-towered catholic church, and the country's largest evangelical church (home to the city's classical music concerts) are all located on Kossuth Square (Kossuth Tér). A point of interest might be the folk-architecture of the restored buildings in the streets around the city center. These are known as the "csabai házak" (buildings of .csaba) and have been renovated to their original form to accommodate such locations as the Regional House (Tájház), the Slovak Club (Szlovák Klub), the Fairy Tale House (Meseház), and the Student Town (Diáktanya).

The Mihály Munkácsy Museum and Memorial, the statue-walkway (szoborsétány), the pool (strandfürdo), the Stephen-mill (István-malom) or the Kner Print House (Kner Nyomda) are also worth a visit. Some of the premier events include the City Nights (Városi Esték), the Daisy Children's Festival (Százszorszép Gyermekfesztivál), and the Csaba Sausage Festival (Csabai Kolbászfesztivál), which is the region's most famous gastronomical festival.
---








---
City/region attractions:

* historic buildings * museums * parks * theaters
---
Hotels:

www.ohb.hu | Contact us

E-mail:


Tel.: +36 1 900 9071
Fax: +36 1 900 9079

All rights reserved.