Summer & Winter Bobsled Track, Visegrád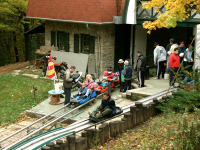 City: Visegrád
Address: Visegrád, Nagyvillám
Tel.: +36 26 397 397




Tobogganing is a hands-on activity. Alone or with a companion, the riders decide the speed and quality of the ride and therefore return again and again, unaffected by short-lived fads. Tobogganing is a great entertainment for families, groups, young people and the old also. The children are waited with swing, slides and a kid-excavator. In addition our guests' comfort toboggan buffet takes after. It's a gorgeous recreation for every generations!




---








---
www.ohb.hu | Contact us

E-mail:


Tel.: +36 1 900 9071
Fax: +36 1 900 9079

All rights reserved.